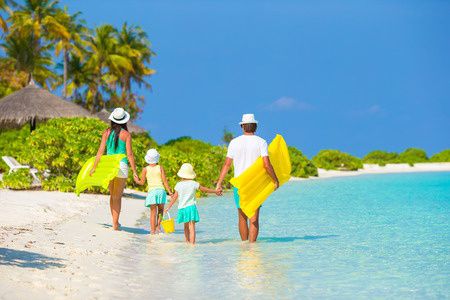 Family portraits are some of the most cherished pictures we hold on to. Unlike the other (thousands) of pics we take to document daily life, portraits allow us to control how we remember a particular moment in time. Yet, it can be difficult capturing your family in the right way – or getting everyone to cooperate for the photo. But don't worry, we can help you out!
Here are some of our best photography tips to help your family portraits turn out beautiful:
Choose the right photographer
Do some research to find a photographer whose work reflects your tastes. Study their portfolio in advance to get ideas and make sure they can do the type of shots you are interested in.
On a budget? Look for a photography student in your area. Students can provide a fabulous shoot at a lower price and often have innovative ideas.
If you have a lot of young kids in your family, ask the photographer if they're used to working with kids. It'll also help if they can be flexible with their shooting style. They'll need to be prepared to make the most of candid shots, and be comfortable keeping the kiddos entertained.
Pick your setting
Indoor shoots require professional lighting and sets, which can add to the cost. Meanwhile, outside settings allow for more creativity and ease. If you go the outdoors route, coordinate with your photographer to choose a time of day for the best lighting. Determine if it will be too bright and everyone will be squinting, or too dark and with unflattering shadows. You'll likely have a lot of options for your location, so consider what's going to reflect your family the best – park, beach, farm, urban. If it has character, give it a try!
Decide on your wardrobe
Gone are the days of matching outfits for the family portrait, but that doesn't mean you can't coordinate! At a minimum, no one's outfit should clash, but consider having a common thread – no pun intended – to tie the group together. This could be as simple as a coordinating color or style. You can even consider using some props to show family unity.
Get creative with poses
If working with a big group, especially one including younger kids, get the "staged" shots out of the way first when the kids are most likely to pay attention. After the staged shots are done, play around! Get the kids up on dad's shoulders, splashing around in a puddle or making silly faces from behind empty picture frames. Spell out words like "love" or "family" by holding letters, or even making the letters with your bodies (think YMCA style).
Make it fun
The truth is, family portraits can be stressful. Trying to get so many people of varying ages to stay upbeat can feel like herding cats. You can keep the shoot moving by playing games or trying funny poses. Remember that these things never turn out as planned, but embrace the chaos – the unpredictable photos can be the best and most cherished!
Overall, the most important thing about any family portrait shoot is to have fun. These photos will serve as a reminder about this day for years to come so you might as well enjoy the process!
And if you have some vintage family portrait prints that need to be preserved, send them to us to be scanned today.
---
ScanMyPhotos top-ranking recent articles:
Must-Read Photography Tips for Amazing Family Portraits
5 Tips for Taking Amazing Underwater Photos
How to Photograph Fireworks: 6 Tips from Experts
5 Photogenic Vacation Spots to Inspire Your Wanderlust
Memorial Day Historical Photos and Stories: Remembering Our Nation's Fallen Heroes
How New iPhone App The Roll is Raising the Bar for Photos
Google Photos Newest Features and Latest Reviews
The Work Project that Lead to the Preservation of a Family's Legacy
6 Must-See Photo Recreates that are Almost Better than the Originals
7 Tips for Taking Better Videos with Your Smartphone
Hawaiian ScanMyPhotos Customer Ships Precious Photos Across the Pacific