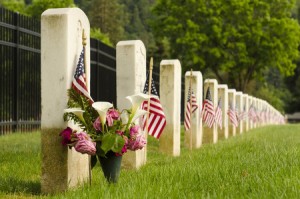 As we all get ready for our long weekend by dusting off the grill and unearthing our swimsuits, we want to take a few moments to honor the real reason behind the Memorial Day holiday. While it is the unofficial start to summer, it's also the time in which we remember those in the Armed Services who died defending our country and our rights. For us, the best way to remember these heroes is through photos and the incredible stories one single shot can tell.
Here are a few historic photos and stories that we should never forget:
The Tomb of the Unknowns
The Tomb of the Unknowns – also known, unofficially, as the Tomb of the Unknown Solider – is an iconic memorial in D.C. that has held vigil for those brave men and women who died without their remains being identified. Many presidents have visited this site to pay their respects, including current president Barack Obama, Ronald Reagan, John F. Kennedy, Herbert Hoover, and Calvin Coolidge.
The Normandy Invasion
On July 6, 1944, the Allied troops invaded Western Europe marking one of the bloodiest days in our Nation's history. A surprise attack from German torpedo boats surprised a landing exercise and cost 638 U.S. soldiers and sailors their lives. This article contains a number of vintage photos leading up to and after that fateful day.
The Attack on Pearl Harbor
December 7, 1941, a "date that will live in infamy," was one of the largest attacks on U.S. soil with over 2,403 Americans killed. This Time article features some incredible images from those dark days in the U.S. history—including a rally held by the Brooklyn Navy Yard that served as a memorial for the men and women who lost their lives in the attacks.
If we don't remember our history, then we will be doomed to repeat it. It is vital to remember and never forget those heroes we lost who were bravely serving our country. By doing so, we keep their legacy alive and can help future generations prevent these terrible events from ever happening again.
ScanMyPhotos top-ranking recent articles:
How New iPhone App The Roll is Raising the Bar for Photos
Google Photos Newest Features and Latest Reviews
The Work Project that Lead to the Preservation of a Family's Legacy
6 Must-See Photo Recreates that are Almost Better than the Originals
7 Tips for Taking Better Videos with Your Smartphone
Hawaiian ScanMyPhotos Customer Ships Precious Photos Across the Pacific
How to Become An Instagram Star
5 Must-Try Fashion Photography Tips and Tricks for Beginners
Rebecca Brand Shows How To Scan Photos (video)
Photography News: Recent Updates to Instagram, Snapchat, Flickr, and Google Photos
Photo Organizers Rejoice: Google Photos Just Got Even Better