Photo
Restoration

Service - Starting at

$45.50

Have you had your photos scanned with ScanMyPhotos.com? Now is the perfect time to
go through your scans for those special photos that need a little TLC. Upload your digital
files for restoration, no need to send in the photos.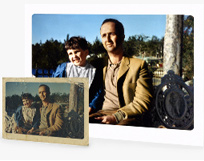 Restoration Articles
•
What you don't know can hurt your photos.
•
Make them last a lifetime.
•
Water damage? Don't panic!
•
When disaster strikes!