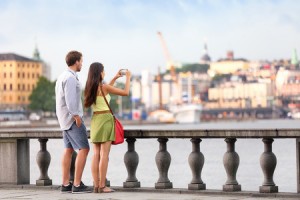 Hold onto your boots—you are about to be as excited as we are about The Roll, a brand-new iPhone app that is changing how people interact with their photos in a big way! Using an impressive technology called EyeEm Vision, this app solves problems you didn't even know you had—until now.
Here are three ways The Roll will change your life:
RATING YOUR PHOTOS
Before: You spend hours culling through the photos from your trip to Italy, trying to choose which Tuscan hillside scenes and pasta pics are worth sharing with your family.
After: The app gives each picture a score from 0-100 based on its artistic quality—the higher the score, the better the photo. Your best trip photos have already been chosen!
HELPING YOU DECIDE
Before: You spend five minutes toggling back and forth between three nearly identical shots of your cat basking in the sun before deciding which one to post on Facebook.
After: The app automatically clusters those similar shots and will even select the best one for you.
ORGANIZING YOUR PICTURES (REALLY!)
Before: You scroll endlessly through the ever-growing archive in your camera roll, muttering unflattering things about your iPhone under your breath while trying to find that one photo you told your Aunt Doris about. "It's gotta be in there somewhere…"
After: The app takes keyword tagging to another level, allowing you to browse, group, and find photos like never before. Without you having to do anything, the app will automatically analyze your photo and assign it a fleet of descriptions by which the image can be searched.
To the right is an example of an image and the (22) keyword tags it was assigned:
Keywords: sea, water, tranquil scene, beauty in nature, tranquility, sky, nature, horizon, mountain, plant, coastline, shore, idyllic, outdoors, remote, day, cloud, ocean, green, non urban scene, calm, landscape
THE SCIENCE BEHIND THE APP
As we mentioned before, the app uses EyeEm Vision, a technology developed by analyzing millions of photos that's "trained" to curate image content by identifying aesthetic elements. This is a deep learning technology, which continues to adapt as it processes more and more images. This means that the algorithm's ability to identify photo elements will only improve as the app becomes more widely used. For more on the tech that makes this app tick, check out this Gizmodo write up.
The iOS (iPhone) version of The Roll has recently launched and is available now in the App Store; an Android version is in the works.
WHAT USERS ARE SAYING
5/5 stars | User717581 | May 11, 2016
"Amazing for finding that one photo. Finally a way to search through all of my photos for the one I want. iOS just lets you search by location but this app lets you search by anything in the photo! I also really like how it shows e all of my best shots so I know which to sell on EyeEmJ"
5/5 stars | MC C. | May 12, 2016
"Fantastic App! I have over 7000 photos on my camera roll and finding an image past the last few days is a pain. Love that this app automatically tags all my photos and groups duplicates without changing the chronological order. Recommended!"
5/5 stars | RickRoz | May 12, 2016
"Finally! I've been waiting for something like this for a long time. Always such a pain to scroll through and find "that" image I've been looking for. The sorting and tagging is amazing. Nice work EyeEm! Must have app."
With so much positive buzz and feedback, we can safely say we are ready to roll with this new photo app.