Negative
Scanning

Service - How It Works
Scanned in USA
Fast, Same-Day Scanning Available
Since 1990 We Have Preserved Tens of Millions of Memories
Starting at 47¢ per scan (35mm)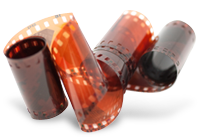 Save your fragile negatives from the ravages of age by taking advantage our expert negative scanning service and new, lower prices.
Once we receive your shipment, one of our trained technicians will hand scan each negative before making adjustments for optimum color and density. All color negatives are scanned using Digital ICE to detect and reduce dust and surface scratches, allowing us to preserve your family's memories as best as possible.
For 35mm and APS film, you may choose 2,000 or 4,000 dpi JPEG scans; for 120mm, you may choose 1,000 or 2,000 dpi JPEG scans.
QUICK TIP

The lower dpi option is best if you want to print slides as photos; you can print up to an 8 x 10" photo, and in some cases, 11 x 14" photos. For a true archival digital image – or to print posters from your images – choose the higher dpi option.
Note that if your negatives are black & white, we cannot use Digital ICE., as all dust and scratches will appear in digital format.
Get Started: Choose from one of our negative scanning options:

Widely used for still photography in the early 20th century, you can still find 35mm film for antique cameras.


Advanced Photo System (APS) is a discontinued film format for still photography first produced in 1996.


120 film is the only medium format film that is readily available to both professionals and amateur photographers.


Whether you have 35mm or APS film negatives, we will scan them with the greatest of care.