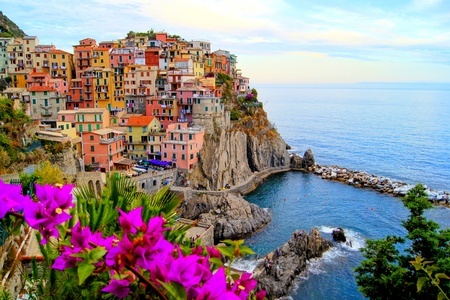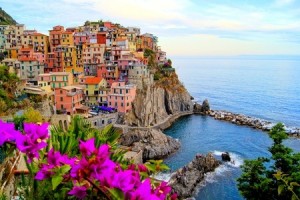 School is out, the weather is warm, and the urge to call out sick from work is becoming an actual sickness – must be vacation season! Wherever you choose to go, your phone or camera is likely primed to capture every drop of beauty you can squeeze out of your destination.
If you're still planning your trip this summer, or just need to take 10 minutes to daydream about spectacular vistas, here are five photogenic vacation spots to explore:
Cinque Terre (meaning "five lands") is a cluster of villages along the northwest Italian coast. Visitors to the area who hike between each of the five villages along rustic dirt paths will be rewarded with spectacular views of the colorful, terraced buildings against the backdrop of the Mediterranean Sea. If you make it here, your camera will only stop clicking for as long as it takes to eat a bowl of pasta al pesto.
Carmel-by-the-Sea is a small town located south of San Francisco, along a stretch of exquisite coastline. Visitors can roam the excessively charming Carmel neighborhoods to choose their favorite "fairy-tale" cottage, peruse the many art galleries and small shops downtown, or drive a few miles down the road to Big Sur for dramatic ocean vistas set amidst the cliffs. The only downside to visiting Carmel is having to whittle down your camera roll after you get home.
3. Kiholo Bay, Hawaii, USA
The clear turquoise waters of this protected bay can be a challenging to get to, but are well worth the hike. At this lush, peaceful bay on the Kohala Coast, visitors are almost guaranteed to see sea turtles basking on the rocks, or swimming in the shallow waters. Visitors would be wise to keep their cameras out for the hike back to the main road – herds of wild donkeys or goats could be making a spontaneous cameo to round out their picturesque adventures.
History and culture converge in Santa Fe to bring visitors an endless stream of photo opportunities: a trip to the Indian Pueblos, turquoise jewelry at the marketplace, the colorful charms of downtown. And don't even get us started on the food… really. It's best if we just move on.
Galway is bohemian city on the west coast of Ireland with the best of everything – beautiful beaches, a cosmopolitan city center, and heaps of culture and charm. Whether wandering the labyrinth of cobblestone streets, singing along with the band in a pub, or driving out to the cliffs of Moher, visitors will be hard pressed to find a time to put their camera away.
While the above vacation spots are truly breathtaking, we believe that any location where happy memories are made is worthy of a few (dozen) photos. Be sure to always keep your camera at the ready on any trip!
---
ScanMyPhotos top-ranking recent articles:
5 Artistic Snapchat Accounts to Follow
Tales From The Pictures We Saved – Episode 1: The Simple Mistake And The Long Lost Letter
Memorial Day Historical Photos and Stories: Remembering Our Nation's Fallen Heroes
How New iPhone App The Roll is Raising the Bar for Photos
Google Photos Newest Features and Latest Reviews
The Work Project that Lead to the Preservation of a Family's Legacy
6 Must-See Photo Recreates that are Almost Better than the Originals
7 Tips for Taking Better Videos with Your Smartphone
Hawaiian ScanMyPhotos Customer Ships Precious Photos Across the Pacific
How to Become An Instagram Star
5 Must-Try Fashion Photography Tips and Tricks for Beginners