Reviews: What People Are Saying About ScanMyPhotos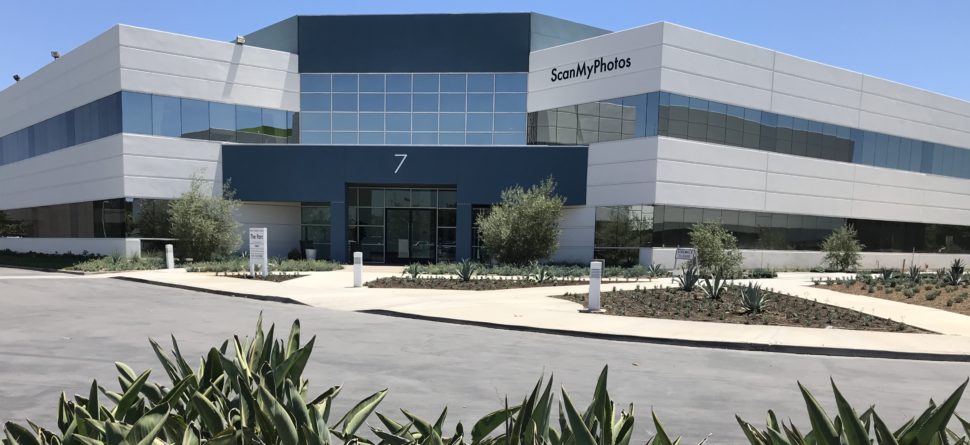 Running and navigating a business is tough. But, the best way to identify how you are doing is to ask. At ScanMyPhotos, feedback matters most.
We take pride in the feedback we receive from our customers. Below is a sampling of real customers sharing their feedback. Thank you to all who replied and shared their comments. We listen, learn, and constantly modernize our business based on your feedback. We even fully redesigned the website because of you and are fortunate to have you as part of ScanMyPhoto's experience and family.
We want to hear the good and bad. A principal reason for our 32 years in business is to constantly seek out input and find out how we are helping people across the world digitize their pictures.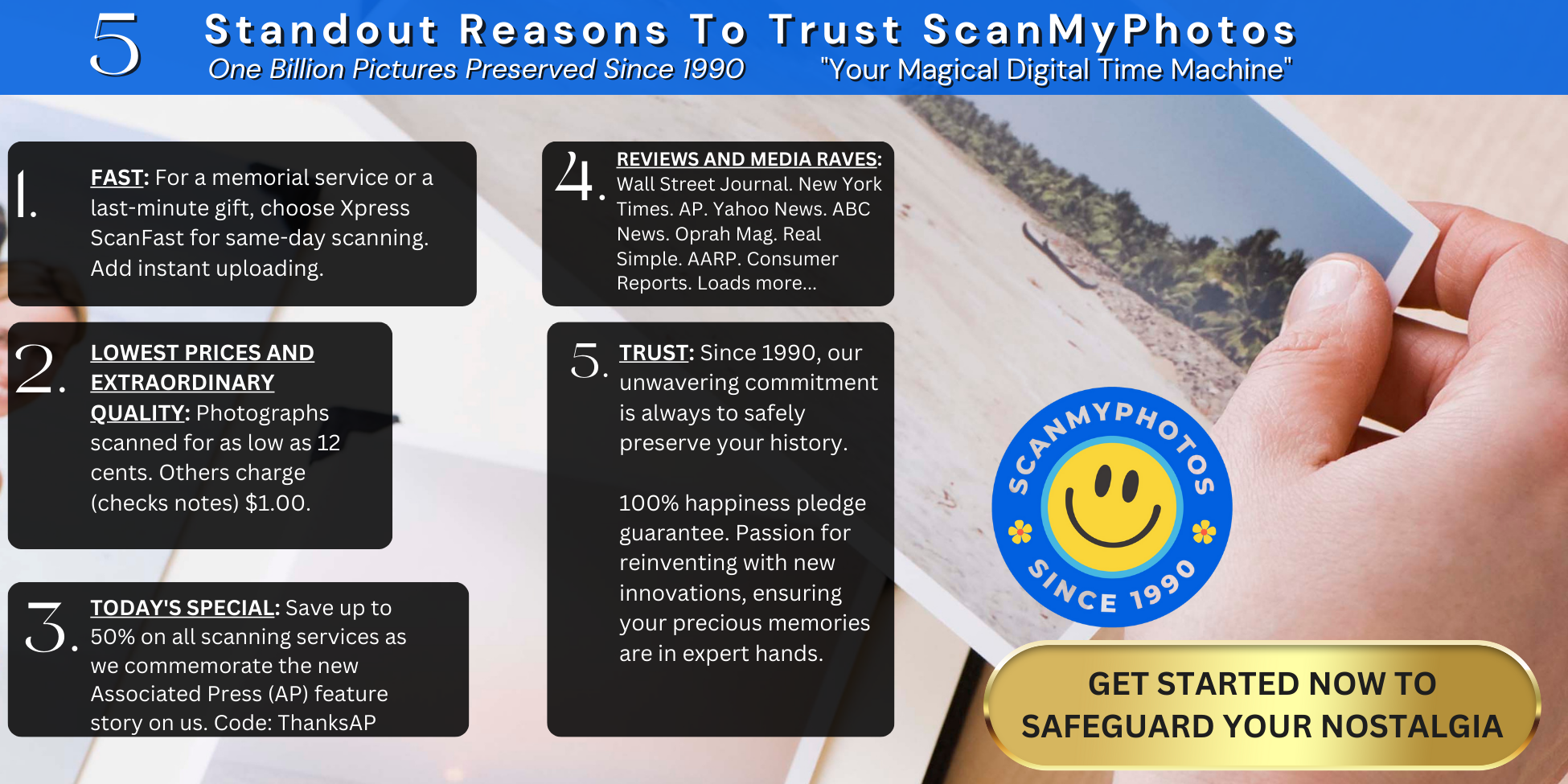 ---
---

---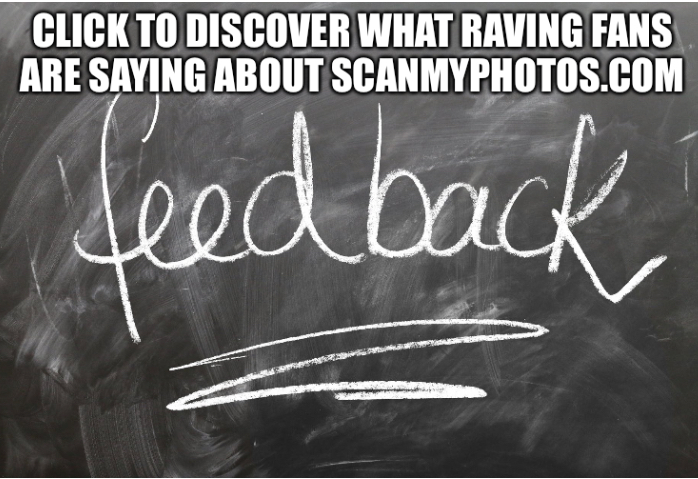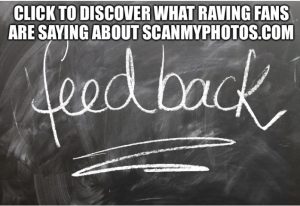 Carol L. in Colorado Springs, CO, August 9, 2022: I am ever impressed with the care and concern ScanMyPhotos gives to returning my photo media. I just received my 1st negative scans returned, and I couldn't tell they had ever been removed from their sleeves!! I have another set of negatives at the ready to be shipped!! Thank you for the care you give to my memories.
Ellen in Chestertown, MD, March 10, 2022: I looked twice now at the DVD of my mother in April 1996 — three weeks before she died. My sister is interviewing her, asking all manner of questions from what's her favorite color (turquoise) to attributes that she most values (honesty, communication, and being nonjudgmental.) I had a somewhat conflicted relationship with Mother, and this delivered the best of her, the essence of her. I haven't felt this "parented" in years. I sent copies to my father, sister, and aunt – so the gratitude would spread. Thanks again so much. Ellen
Steve H. in Dunwoody, GA, February 24, 2022: Here is an email I sent to a bunch of friends and neighbors praising ScanMyPhotos.
I have something you may (or may not) be interested in. It is getting your old family photos scanned. Suzi and I did it several years ago with ScanMyPhotos and were delighted with the results. (Attached are examples.) We just sent in our second box of 1,800 photos, some going back to 1909. I will add that our kids liked getting a thumb drive with all 1,800 pictures on them. Suzi and I like the fact that ALL the pictures will go to each of the kids right now… they are not going to have to sit around a table and divvy them up someday.
The quality of the photos we got back is better than the photos I sent them. As we all know, photos deteriorate over time. But today, there are algorithms that help bring back the color and resolution. So, as with the samples I've attached, the scanned images are not as good as when we originally brought the photos home. But they are much better than what I sent ScanMyPhotos. Also, on the batch I just sent in, I ordered a photo enhancement extra that was not available last time I ordered. So my next ones ought to be better than these samples.
It is simple to order. Just put the pictures in a prepaid box that they send you and take the box to the post office. Then they send you the pictures and a DVD with the scanned images. (Getting them on a jump drive instead of a DVD is one of their extras.) I must tell you that filling the box is a real pain. I reviewed all the pictures, sorted them by size, filled out a Word doc summarizing the contents each year, and rubber-banded them together. We did it over a month or two ago, so I don't know how long it took. But I'd guess we're talking about 3, 8-hour days if we did them all at once. Seeing all the pictures again was fun, but sorting and classifying were a pain. So be aware: The pain for us was greater than the cost of getting the pictures scanned. But we're still glad we did it. If you get photos scanned, let me know, and I have some tips that will save lots of time.
Jessica Taylor, March 29, 2020 — Dear ScanMyPhotos team. Thank you again so much for scanning my box of photos at a time of all this crisis. A heartfelt thank you to the person who worked on it and did such a wonderful job. We had a death in the family yesterday. My great-uncle was 94 and lived in England. He'd been in the hospital since November, and because of the usual flu season, we couldn't travel over and visit him. Now with the coronavirus, we won't be able to have a funeral in person. The bright spot is that because you got the photos scanned, we'll be able to celebrate his life virtually, reliving some of the most precious moments of our visits back and forth. Like the one attached – they came over to visit us in Colorado in the early 80s. You can see there are spots on it – if it wasn't scanned, we might have lost this photo forever. Thank you!!! On behalf of my family and I, we appreciate what you did last week. I hope you are all well and staying safe and healthy. Thank you, thank you, thank you! Kind regards, Jessica
Stephen C, Santa Monica, CA, March 3, 2020 — I am a repeat customer, I did a whole bunch of photos about ten years ago, and I figure the technology must've gotten better so I want to do them again. You did such a good job last time!
Maggy D, Scottsdale, AZ, February 11, 2020 — I just wanted to say that this was not the first time I used ScanMyPhotos. I looked around at all the options to see if I could find a better quality/price point.
After checking out several companies in a well-researched Top Five (yours was included), I returned with you again. I didn't need fast service, I didn't need to keep the photos in any order, and I had several sizes that were close in size but not the same size. With your service, I can bundle those that match together; they don't all have to be exactly the same.
When I took the box to the postal service, I mentioned to the woman waiting on me that I had JUST found out that Costco offers this service, and I didn't even check them out as an option. I told her I probably could have saved some money, and her reply was, "Oh well, you're doing it this way. Just let it go."
BUT…BEST PART EVER…coming back home, I investigated what Costco offers and found that their price-per-photo was significantly higher than yours, AND for that, they were offering no "Soap" color restoration service, AND they were only accepting a select number of sizes that needed to be exact.
Bottom line: I think your service is THE BEST, and I am one happy customer. I wouldn't think of using any other service for quality and price. Feel free to use this testimonial any way you wish.
John C. October 29, 2019 — This was a great email. I used ScanMyPhotos a couple of years ago to digitize all the family photos, shoe boxes, and albums included, and old 8mm movies and VHS home movies after my parents died. My parents lived in central Florida, and I was always worried a hurricane or lightning strike would wipe out the history in their house, but Mom would not let me send the pictures away while she was alive. When I did scan them through ScanMyPhotos and got the DVD drives back, I distributed copies of everything on large 256-GB USB drives to all family members of my generation (four brothers and sisters, plus a few cousins, nephews, and nieces). That extra step is critical and worth mentioning. To preserve digital photos for generations to come, you have to scan them, AND THEN scatter them around the country and the family. You can't just scan them and then put the DVDs back on the shelf next to the photo albums!
Margie N, January 10, 2020 — "I took the scanned photos and turned them into hardbound coffee table books for each family member. It saved me hours of scanning. They make great gifts, keepsakes, and family albums."
Heidi Kay Carson, Jan 20, 2020 — Thank you so much! I received the DVD and am very happy to have all my old photos digitized! Thank you for your great service that was recommended to me by a friend and which I will recommend to a friend too.
Christine Aboudiab, January 19, 2020 — I appreciate ScanMyPhotos. I recently moved from our very large family home to my retirement condo, which is very tiny. I unloaded piles and boxes of unneeded things. I kept all the photos and slides and copied them myself. I sorted and sorted and looked upon about 20 large packing boxes…I knew I was defeated. I ran across a timely ad for ScanMyPhotos and thought, what a deal. I separated my brother's photos from mine and our family photos, boxed them up, and sent them away. Before long, I got my photos returned and multiple DVDs. I was a hero to my brothers, who received them for Christmas. Great memories…saved forever and with great detail. I am VERY pleased. I will weed through more of my boxes and send a few thousand more…I think I could keep them in business by myself!
Shawn M, Greer, SC, January 9, 2020 — "The Scanmyphotos service is great! Lots of options and packages. Pictures in your closet do no one any good if they can't see them. And who wants to move and store all the pictures; scan them so all your friends and family can see them. Scanmyphotos did a great job; very timely, worked with me, and high-quality scanning."
J. Brown, September 23, 2018 — "You guys are SO awesome! I have three more coming, more after that, and tell everyone I know about your company! Thank you!"
David Pogue, November 28, 2019 –"I like ScanMyPhotos.com, which is dirt-cheap and really fast."
Hey! I like https://t.co/nQlKv8MA5r, which is dirt-cheap and really fast. Hope this helps!

— David Pogue (@Pogue) November 27, 2019
Robert P, June 24, 2019 — Wow, what a great service! Our scanned photos looked great, and the turn-around time was quicker than expected. I was nervous about sending my photos out for scanning but everything went great. Thanks for your professional service.
Scott Kramer, December 13, 2019 — Forbes Magazine: This Photo Scanning Service More Than Delivers. Another pleasant surprise: The excellent quality of the scans. Every photo was vibrant, clear, and color-corrected. We were beyond impressed with the entire service, speed, and quality and have already recommended it to several friends. It makes a fantastic and affordable holiday gift for a loved one — and helps clean up the house while preserving memories permanently before they fade away.
Corinne, San Diego, July 11, 2018 — With the big fire that just raced through the community of Alpine where I have worked at the elementary school for 30 years, my heart is broken for my friends who had no time to gather any belongings before they evacuated to safer ground. For those that were lucky enough to come out of the hellish inferno with their homes still intact, many of them had major smoke damage to everything including photos and camera equipment, and computers. I will do my best with the pack of your business cards I have to spread the ScanMyPhotos word so everyone becomes as prepared as I now am when they have to face wildfire, water, or smoke damage to photo memories they had no time to save. I can't tell you how many tearful families in Alpine are now without years of precious memories of their kids, families, and loved ones. I am thankful every day that I found ScanMyPhotos after the devastating Cedar Fire in 2003. It took me a while to complete my digitizing project, but the peace of mind I have now is priceless. Thank you so much for your amazing and companionate service and employees. I'll spread the word.
Melanie @ Plan For Awesome. Sept 21, 2018 — Convert and Digitize Memories – Movies, Pictures…All of It!
Charlotte A. Sept 21, 2018 — Speedy service! I did not get them rotated for the extra cost but I recommend that you pay to have them all rotated right side up because I am finding it difficult to rotate them in my program on my computer. Actually, I can rotate them quite easily, but if I close them and open them again, they are back to the original.
June 18, 2019 — Easy to follow directions


Jun 12, 2019 — Used several times, never disappointed


Jun 6, 2019 — Excellent, fast service.


May 30, 2019 –Great service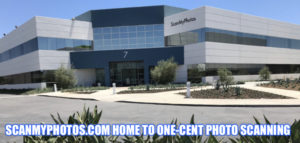 May 25, 2019 – I had a few questions and contacted them. They responded quickly and made the order very simple. Fairly quick turn-around time.


May 16, 2019 — Pictures came out great on disk. They did a great job.


May 15, 2019 — They have a great system of communication and keep you up to date at each step. The Customer Service rep I dealt with was friendly.


May 14, 2019 — They have done a great job on the orders I have sent and they are terrific about keeping you informed about the progress of your order.
---


May 10, 2019 — This was my second time using them and the results were excellent the first time. If you wish to have them do more then you pay more but it is still reasonably priced. Well worth the investment.
---
May 9, 2019, Good experience and quality results.


May 5, 2019 — Everything went well. Thank you.


Apr 22, 2019 — Thinking about all the memories in one's photo albums but how easily it all could be lost so fast, this service is well worth it. I added the upgrades including the 600 resolution, the digital or photo cleanup, the variety of sizes option and USB option. We are very pleased with the quality scans and service.


Apr 17, 2019 — It didn't take long to get my photos back and they kept me informed every step along the way I would definitely use them again


Apr 15, 2019 — Easy to navigate. Have used ScanMyPhotos in the past with very good results.


Apr 13, 2019 — Follow the instructions and it all worked out exactly as they said.


Apr 9, 2019 — Completed and returned much faster than I expected.
Mar 29, 2019 — They did a good job and they provide good communication during the process.


Mar 29, 2019 — Prices are as advertised. No surprises. Communication was great. Best of all, my pictures came back exactly as I sent them. Will use this company again.


Mar 29, 2019 — So far so good. Got a couple of emails with the status of my order.


Mar 28, 2019 — This was a great value and got me to do something I've really wanted to do for a long time. They email updates they sent, letting me know my pictures were delivered to them, that they were being scanned and that they were on their way back to me, eased the worry of having all of my family photos on the other side of the country.


Mar 21, 2019 — Process went smoothly, photos returned safely and unharmed, easy peasy!


Mar 19, 2019 — Excellent job in scanning my photos. They did a great job. The scanned photos look beautiful. I would highly recommend them.
---
Mar 13, 2019 — This is a great price for 1000 scanned 4×6 photos. The DVD of photos is great. I have a lot of photos to digitize so this has been very helpful. Thank you!


Mar 9, 2019 — Very nice service. I would recommend it.


Mar 9, 2019 — I haven't even received my scan back yet but I know it will be perfect. I have used Scan My Photos before and always recommend them to friends! I guess the best recommendation is repeat business. Easy to use and great customer service. Just went Thru 10,000 photos and sent in 3,000 to be scanned. Great service and great company!!


Mar 6, 2019 — This is a great value. Be sure you read the details before you buy to be sure you understand size limitations.


Mar 5, 2019 — Well done, easy to use, peace of mind knowing old pictures will be saved


Mar 1, 2019 — Great service- I sent over 5,000 photos and they worked with me on explaining the different sizes, etc. family-owned company so they understand and respect what we are sending them! Highly recommended.


Feb 16, 2019 — Choose the highest scan dpi, choose concierge service, and you'll be ok. Very responsive for a high-volume service. Understand that digitizing your paper-based photographs yields a very grainy digitized picture…it's not HD!!! I'd recommend ScanMyPhotos.com to everyone who wants to get rid of the mountain of old photos and put it into a format that the people you leave behind can use! Great value!!!


Feb 13, 2019 — They do a fantastic job. It was a better deal when you didn't have to pay for shipping but overall still well worth the price!


Feb 6, 2019 — They do a great job scanning! Getting the photos to them is a little pricey though. I would definitely use them again!


Feb 1, 2019 — Remarkable Quality and Service Be careful to count how many pictures you send in order not to be charged a high fee.


Jan 27, 2019 — Easy to follow instructions. Thanks


Dec 27, 2018 — Great service
Dec 27, 2018 — Scanned hundreds of photos. Came out great. The service was awesome! Couldn't be happier. Thank you!


Dec 26, 2018 — ScanMyPhotos made it easy to prepare, and send photos. It took 2 weeks to send a scan and have the photos returned with the DVD of my pictures


Dec 25, 2018 — They notified me when received and when shipped back they put pics in an envelope that they were unable to scan 4 out of 1000 my fault I don't take sticky stuff off loved this company


Dec 7, 2018 — Excellent scanning to DVD. Great job.


Dec 5, 2018 — So far very easy to work with any reasonably quick turnaround. I am planning several more shipments.


Nov 29, 2018 — ScanMyPhotos.com has been fantastic to work with to consolidate my photos to disc. The scans have all been great. I did pay the additional fees to have my photos scanned in order. The fees were extremely reasonable. The customer service team has been accommodating and helpful.


Nov 18, 2018 — They contacted me right away as they needed further info. Rey good doing business with them.


Nov 15, 2018 — All they said would be done, was done with excellent results. Highly recommend this vendor for the picture to disk transfer.


Nov 13, 2018 — I think they are the very best. They came to My aid and helped me out. Thank you, everyone. It's nice to deal with a company that cares about its customers and they are not just a number.


Nov 13, 2018 — I was truly amazed and so happy with the results. Pictures returned neatly packaged. Great for storing. The DVD is great! I will use them until I'm done


Nov 10, 2018 — I waited a couple of weeks which I think was really fast compared to the time I took to put the pics together and send them. My boxes arrived today. The photos were carefully packed and the USB looks like a key. I am so very happy with the results A big 5+ !


Nov 8, 2018 — Great customer service! Very quick service! So happy to have worked with them! I will be sure to use them again! I HIGHLY recommend them!!


Nov 8, 2018 — What a wonderful job you did with my 2800! family photos! I paid for "multiple sizes" and "scan in order" and was totally happy with the job!! Thank you so very much!


Nov 6, 2018 — The Pictures came back in good shape and the disk is excellent.
Oct 24, 2018 — This service was perfect for my needs. Wanted to transfer all my old photos to digital so it'd be easier to look for baby photos of my kids for the HS yearbook, photos to display at my mother-in-law's 90th Bday, etc. Using Scanmyphotos.com made the process much easier than sorting through thousands of actual photos. Makes it easier to file my photos on directories too! Will keep using them until all my photos are scanned.
---
Oct 18, 2018 — This was an easy experience – packaged up nearly 1000 photos that I did not have digitized (old, before CDs, etc.), and they scanned them and sent them back within a few weeks with a CD. I've since backed them up to my external drives and other back-ups so that I can preserve them long after the CD is no longer good. I needed to reduce the number of photos I'm keeping (and the weight that goes along with that when moving) and this is the perfect solution to that.


Oct 18, 2018 — This is a wonderful service! It saved me so much space. Now, photos I had packed away, I can see on my computer! They do a great job of keeping you updated on where they're at with your order.


Oct 8, 2018 — This worked out great. I packaged up the photos as required, shipped them off. They came back about one month later. The CD with the photos turned out really well. I will be using the service again, and have recommended the service to others!


Sep 30, 2018 — I have used them twice and they have been terrific. Great price and great service. They check in with you along the way and make sure they take good care of your photos as well.
Jane H. Sept 20, 2018 — Excellent service and communication.
Laura D. Sep 14, 2018 — ScanMyPhotos.com was terrific. They let me know when my photos had arrived, kept me updated on the status of my order and completed the job quickly. The scanned photos look great!
Patricia G. Sep 14, 2018 — Scan my Photos did a wonderful job scanning 1,500 of my photos. I would highly recommend their services.
Joseph G. Sep 12, 2018 — I have used the service several times and the discs are very good. The cost is very good.
Ingrid A. Sep 11, 2018 — Excellent customer service.
Amy W. Sep 11, 2018 — I really like the convenience of this service.
Kurt G. CNET. Sept 7, 2018 — Memories in a shoebox: Digitizing old photos unlocks a flood of mixed emotions. A weekend project to scan and safeguard hundreds of photos from the era of film was more than just an emotional journey, it showed how technology shapes our memories.
Melinda K. Sept 5, 2018 — Love the convenience, accessibility to photos via digital frame, and the increased space in my house.
Lisa L. Aug 30, 2018 — They were right on top of the whole process and kept in communication throughout. We would definitely use them again! And recommend them!!
Becky P. Aug 29, 2018 — Love ScanMyPhotos!!!!!!!
Joanne B. Aug 28, 2018 — Never an issue…have bought many for a LARGE family photo scan project and I would only recommend using this company!
Clay O. Aug 27, 2018 — I was a little worried about sending off our precious family photos for scanning. However, there was no need to worry! ScanMyPhotos.com kept me updated every step of the way – let me know when the photos arrived when they were going to be scared when they were complete. I received a link to download my photos and a disk (along with my original photos) in the mail. The quality of the scans is sharp. The service is outstanding. Highly recommended!
Nadine D. Aug 16, 2018 — I have been very satisfied with the care of my photos!
Lauri C. Aug 15, 2018 — Great communications
Mark O. Aug 14, 2018 — Great customer service. Had 2000 pictures converted to DVD and every one of them was perfect.
Bonny W. Aug 10, 2018 — Great deal and great service.
Margaret C. Aug 8, 2018 — I ended up adding on a lot of extras, but it was worth it. It was a bit pricey, but they did great work.
Helen P. Aug 8, 2018 — I just sent another 1,000 photos today. This is my 4th order. I have another 5 to 7 thousand more to send. Work is excellent trying to put 60yrs. of family photo all on DVD Great work
Brenda M. Aug 6, 2018 — Over the past 4-5 years, I have had more than 10,000 photos scanned by this group. Quality work and customer service are consistent.
Jaime R. Aug 1, 2018 — Scan my photos employees are very personal and nice! Customer service responds quickly and is awesome to their customers!!
Mathew M. July 24, 2018 — Good job on 9000 photos. Higher-resolution is worth the extra charge in general.
Gary B. July 22, 2018 — It took a while to get the photos back but the quality was great. Quite pleased.
Ann W. July 16, 2018 — As advertised they only sent back one photo that could not be copied due to it being copyrighted.
Mariela V. July 14, 2018 — Very professional great communications!!
Helen P. July 2, 2018 — Everything came out great on DVD Pictures were sent back in perfect order. DVD was great. Will keep on using ScanMyPhotos. Sent in 2,000 pics so far. Have about 40,000 to go.60 yrs of photos. Thanks
Jay M. June 21, 2018 — Quality product and excellent communication … all at a reasonable cost. Highly Recommend.
Michelle F. June 19, 2018 — I got my phone back in a reasonable time. Was happy with the pictures.
Fred L. June 16, 2018 — Great product.
Andrea Y. June 14, 2018 — Amazing customer service!! Constant updates as to the progress of order! Great price!! You will not be disappointed with the quality of scanning of your memories !!!
Patricia C. June 12, 2018 — Very accommodating.
Doug A. June 9, 2018 — They did what they said and when they said. Good job.
Susan B. June 3, 2018 — It was a very positive experience.
Alicia M. May 31, 2018 — Excellent service.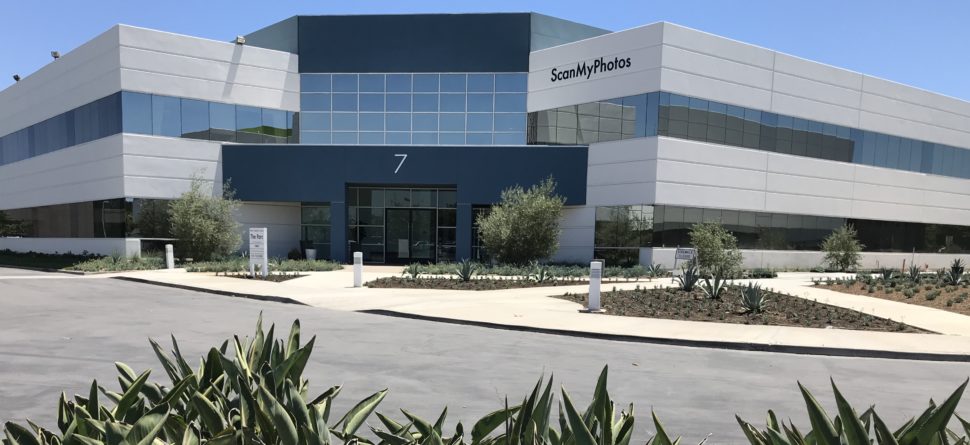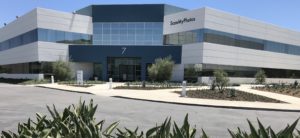 Leza S. May 29, 2018 –So far so good. But not had pics back yet as still doing. But had an email to say they were in the process of it. If photos come back & discs are all good then I'd give them a 5 star.
LOUISE C. May 25, 2018 — Scan My Photos gave excellent directions on how to prepare photos for mailing. The process was very easy. They sent an email when they received the photos and updates as they were working on the order. I received the DVD yesterday and am very pleased with it.
Melissa R. May 24, 2018 — Good price and great service. Plan to use them again in the future!
Barbara B. May 18, 2018 — Would recommend them. They did a great job…helped me get rid of 'tons' of photos.
Margaret H. May 16, 2018 — A plus operation.
Alicia M, May 31, 2018 – Excellent service
LOUISE C, May 25 – Scan My Photos gave excellent directions on how to prepare photos for mailing. The process was very easy. They sent an email when they received the photos and updates as they were working on the order. I received the DVD yesterday and am very pleased with it.
Melissa R May 24 – Good price and great service. Plan to use them again in the future!
Barbara B.May 18 – Would recommend them. they did a great job…helped me get rid of 'tons' of photos.
Margaret H. May 16 – A Plus operation
Tina S. on May 9, 2018 – SMOOTH SAILING
Audrey on May 9 – They provided quick service and good quality products. They emailed me when they received my photos and when they started scanning them.
Darin L. on May 7 – Awesome
Bill W.on May 7 – Delivered exact product as described. Customer service is easy and quick.
Bob C.on May 2 – It's scary to send photos off, but ScanMyPhotots acknowledged when they got them, verified my order, gave me an estimate of completion, told me when they started the scan, when they were shipping them back, and returned them in the same shape as I sent them. It took 26 days (incl weekends) from receipt to send date, a little over their estimate, but close enough for me. I had some photos that were fairly washed out, and a few that never had good color to begin with, so I opted for the photo soap add-on. It improved those colors a lot, so that's another worthwhile option. Very satisfied, and would recommend them to anyone who doesn't want to sit for hours by their scanner.
Sheldon H. on May 2 – They were very helpful and contacted me when I did not provide all the documents needed to process my pictures.
Teresa H. on Apr 30 – I have an empty cupboard where photo albums used to be and can play the DVD at family gatherings!
Gary W. on Apr 29 – They did a good job scanning the pictures, and delivered them timely.
Joseph G.on Apr 28 – Have used the service several times. very satisfied.
Melissa P.on Apr 27 – Excellent deal for scanning old photos digitally!. The quality of scans is awesome too. Turn around time is a couple of weeks, but I'm not in a rush, so it's no big deal. I can finally keep all my photos on one hard drive. I should have done this sooner.
---
Ellen P. on Apr 27 – Photos were returned in order, carefully wrapped, and in a sturdy UPS box.
Donna on Apr 26 – I have sent 3,000 photos to scan my photos. They have done an excellent job scanning the photos and provide a DVD and thumb drive so that accessing them is simple and convenient.
ROMESH W. on Apr 21 – Great customer service, will review further after I receive the DVD to see the quality of work
Shirley H. Apr 17 – My pictures came back much more quickly than I expected, and I was informed when the package was received, I received an email when they were being processed, and I received an email that they were on their way back to me (plus the tracking number). Very pleased!
Myles F. on Apr 15 – They were right on with quality. Turn around time is pretty good. Will be using it again without hesitation.
Karen D. on Apr 10 – I bought 3 packages of 1000 photos to put on DVD and USB drive. I thought it was a great deal. Overall, the service was wonderful, took about 4 weeks door to door. Would definitely recommend it.
Amy Z. on Apr 2 – Just when I was starting to get nervous about the progress of my pictures, I received an email letting me know where they were in the process and when I could expect their return. Two weeks later I received my pictures and DVD, as promised. The work was absolutely impeccable and exactly as I hoped. The DVD opened with no issues and I was able to save the digitized photos to my computer. I saved so much time using this service over scanning the photos myself; I will definitely be a repeat customer!
Donna P. on Mar 29 – Amazing service! Took me a long time to get photos together but so glad I did. Scans are perfect! And, their customer is so nice! This was such a good experience that I just sent off more photos!
Pamela S. on Mar 28 – Took a little longer than I expected, but was infinitely faster than if I'd had to scan them myself! Quality was excellent.
Harriet V. on Mar 24 – Great value, quick turnaround.
Michael B. on Mar 21 – You have to organize your photos but if you put in the work they will do their part quickly and provide professional quality services as promised.
J. J. on Mar 17 – The finished product was great and all pictures were returned. I did not have a timeline for completion but it took a little longer than I first thought it would. I received a notice when they were received, when they began to scan and when they shipped.
Will G. on Mar 2 – Always great service. even faster than it used to be.
Patricia A. on Feb 21 – Good service for a good price. Will use them again.
Mary Ann D. on Feb 21 – Quick and good quality.
SHARON L. on Feb 20 – Had 920 4 x 6 photos loading to a disc. The process was easy, follow step-by-step instructions. All returned to me in excellent condition. Will use this company again!
Wanda S .on Feb 7 – Very quick service and processed 1,000 photos in less than 1 month!! Impressed with the quality of the DVD provided. Highly recommend this company for your photo needs.
Lisa P. on Jan 29 – I was hesitant to send my treasured photos to ScanMyPhotos; but the resulting service, communication, and digital results erased my anxiety. I am now relieved that my memories are safely preserved.
Danielle B. on Jan 27 – They were super fast, professional, and they did a great job!
Pat S. on Jan 22 – Very pleased with their service. What a wonderful way to preserve memories. Able to finally do away with old albums (about 40)! The DVD's are of excellent quality. Highly recommend.
Thelma K. on Jan 18 – So Far…I have trusted Scan My Photos with 4 shipments totaling 4000 pictures!!! They are Wonderful and caring!!! Customer Service is Stellar!!!!
---
Tanisha S. on Jan 14 – I ordered this before Christmas which is probably why it took a little longer than I expected to but the photos looked like the originals. Good job.
S. A. on Jan 14 – Very quick turnaround. Returned old photos and the DVD was of excellent quality! Thank you!
Laurie G. on Jan 14 – I bought two ns and am so happy how I got organized with my older 4×6 memories. Before digital files, it was all negatives. Now my memories are safe and can be viewed easily.
Paul D. on Jan 3,
Very professional with a quick turnaround time and re-packed in a way that left me feeling that my photos were well taken care of – I would, and have, recommended them to family and friends.
John H. on Jan 3 – I was concerned about losing photos but in the end had nothing to fear, Scan my photos did a good job. I hindsight I should have paid for the cleaning process but all, in they came out well.
Phillip B. on Dec 30, 2017 – Fast service. In retrospect, I should have sprung for a higher-resolution scan.
Susan K. on Dec 29 – Great service. Photos scanned well.
Patsy T. on Dec 27 – Very efficient and timely.
Tracy r. on Dec 26 – Very efficient c customer service. Haven't seen the photo disk, but it is coming this week.
Terri P. on Dec 17 – I was pleased with the quick turnaround time. All my pictures were scanned to both a DVD and flash drive. I will be sending more photos to this company.
Nicholas J. on Dec 12 – This was a great buy. Everything was as advertised!
Gloria A. on Dec 10 – The photos I sent to put on a stick turned out beautiful, I only had 1 reject which was awesome. I totally understand why the 1 would not work because it had a very hard backing already on it so it was too thick to be scanned. They send me a DVD [data disc] which was great and I love it. Pictures seem to be a little enhanced for great color. I had put them an order I wanted them to be scanned. Thank you
Jan P. on Dec 10 – Sent my photos in, got back all of my photos in a few weeks along with the DVD. The photos were in the same order.
Teresa L. on Dec 8 – I have used this service multiple times and every time I get the quality scan back. The original print quality sometimes was poor but I still get a reasonable quality digital scan. It makes keeping the historical photos easy.
Nancy K. on Dec 7 – They are the best company out of all others I tried.
Lisa D. on Dec 6 – Fast and good quality. Very pleased.
Ralph C. on Nov 9, 2017 – I availed additional 600dpi scan, size other than 4×6′ and signature confirmation when sending photos back. Fast turnaround time (9 business days). Photos uploaded on 5th business day upon date photos received. They email you once they received your photos. Very responsive and good customer service. Photos came back in excellent condition. I highly recommend this company!
Darlene on Nov 8, 2017 – Great and Fast!
Lori H. on Oct 30, 2017 – Fabulous job overall…followed my instructions PERFECTLY! I am definitely going to use this company again for future projects. BRAVO!
Bethany B. on Oct 17, 2017 – Great customer service-very happy
Jon S. on Oct 14, 2017 – Extremely great scanning! I had a pile of photos and they all came out looking so great! I couldn't be happier.
Marna S. on Oct 14, 2017 – I highly recommend this business if you have photos you want to keep. Excellent results – very professional. I truly highly recommend utilizing this business.
Linda W. on Oct 13, 2017 – They did a good job scanning my slides.
Mary Ann D. on Oct 13, 2017 – Quick, reliable, and good quality.
Robyne E. on Oct 13, 2017 – Photos came out great the service was a lot faster than I was getting all the photos organized.
Justin S. on Oct 13, 2017 – Quick turn around, great results. Very pleased.
Sarah K. on Oct 13, 2017 – Amazing! I am so pleased. The DVD came out beautiful and your service couldn't have been better. I was kept informed of progress and received my DVD and photos back really quickly!
Lou A. on Oct 11, 2017 – Very happy with the scanned photos! Great company to do business with! Thank you
Bob A. on Sep 22, 2017 – The photo scans came out pretty good. I will probably upgrade to 600 dpi next time to see the difference. Thanks, ScanMyPhotos for making it affordable.
Jan N. on Sep 6, 2017 – Professional and on time!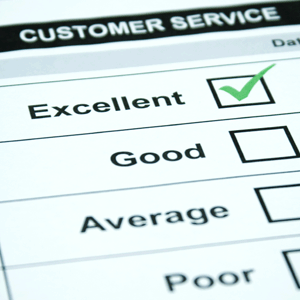 William F. on Aug 31, 2017 – My photos produced great scans that I easily loaded into software for editing. There was a problem with the paperwork enclosed with my shipment, and the customer service did a great job handling it and moving my order along. I'm pleased with the package I bought. The site will offer multiple upsells, but you can easily avoid them.
Sheila H. on Aug 23, 2017 – Awesome Job! Helped me tremendously
Jma on Aug 18, 2017 – Great service.
Patti P. on Aug 16, 2017 – I have used them twice now and the orders were done in a timely manner. The price was really fair considering it would take me very long time to this.
whoa! There are loads more….
---
Mercedes S. on Aug 14, 2017 – Very helpful in resolving concerns.
Corinne L. on Aug 13, 2017 – I had been focused on getting all 35 of my photo albums scanned after the Cedar Fire in 2003. Never again did I want to have to make a split-second decision on what to take and what to leave behind. SMP was spectacular every step is of the way from mailing instructions to follow up and delivery. I've now digitized over 10,000 photos and recommend them every chance I get. A+ customer service!
Pat S. on Aug 7, 2017 – Very satisfied with this company. They have excellent customer service. I am emailed when they receive my order and when it is finished. The finished product is exactly what I paid for. Would highly recommend them.
Julie W. on Aug 1, 2017 – Quick service and as promised. I appreciate that. The pictures were scanned beautifully; they look amazing! Thanks! Will use service again! This service worked great and exactly as advertised. Put your pics in bundles, ship them in, and get your pics and a DVD back in about two weeks. Easy!!
Gabriel p. on Jul 29, 2017 – Received my pictures and they looked great! Happy with the quality of the pictures.
---
Krista H. on Jul 27, 2017 – Everything went exactly as described. They kept me updated along the way as to where my photos were and in what stage of the process. And I received my photos back in perfect condition. I LOVED the service and even more, the cost.
Kathryn S. on Jul 26, 2017 – Quick service and good results
M. S. on Jul 25, 2017 – Everything you need to know is on the web site but, if you still have questions (like I did) just call Scan My Photo. I received my pics along with DVD and memory stick in very little time. Everything looks as good as the originals.
Karen on Jul 25, 2017 – Everything great.
Trish S. on Jul 24, 2017 – Great service and quality results!
Lynda S. on Jul 18, 2017 – Excellent work – very professional.
Laurie G. on Jun 26, 2017 – Great price, super fast service really satisfied.
Bruce C. on Jun 21, 2017 – Service was excellent!
Stephen R. on Jun 17, 2017 – Excellent service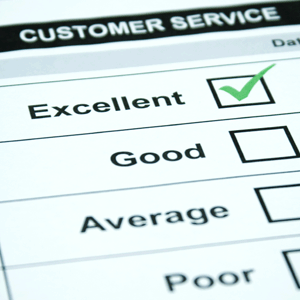 Marietta L. on Jun 17, 2017 – I've now used ScanMyPhotos five times. Using the enhanced options to each order does have additional costs. I am very satisfied with the results. I intend to buy again from ScanMyPhotos. After sending in a total of 5000 photos, I have more and send. These photos will allow me to share my family history with my children.
Pat on Jun 14, 2017 – Good instructions, easy to follow, good pricing.
Cathy P. on Jun 10, 2017 – They were fast and efficient!
Marna S. on May 15, 2017 – I have used other scanning companies but this one is absolutely the best. Great customer service and great results. I highly recommend it.
---
Lisa E. on May 15, 2017 – The process was very easy to follow. They did a wonderful job scanning my photo's and the original pictures were returned promptly. Great experience.
Anne M. on May 3, 2017 – Allowed us to share photos with multiple family members.
Rose L. on Apr 29, 2017 – Incredible deal and service! I did extensive research on multiple vendors and this is the best out there for the prints service!
Jessalyn D. on Apr 15, 2017 – Quick turn around, exactly as delivered, no surprises. Very clear pricing.
Jim T. on Apr 14, 2017 – Quick turnaround, excellent job. Thanks.
Lisa Prompt, professional customer service is so appreciated (and rarely found elsewhere). ScanMyPhotos.com over delivers every time and provides me with great quality DVDs of all my favorite family photos. I highly recommend and trust this company.
---
Carolyn M.on Apr 6, 2017, GREAT to work with. Saved me boxes and boxes of old photos. With this price and the photo book option, I did not need to labor over which to retain and which to toss. The pictures are great memories!
Michelle R.on Apr 4, Very quick turnaround time.
Robin U.on Apr 4, 2017, Simply easy, fast return, great quality!
M. S.on Apr 4, 2017, The merchant is helpful and gave me all the info. I needed. The results are good. Also, the Thumb Drive has a large key shape with a big cover case. My other Thumb Drives are small with equally small covers and all can hang on the same chain. The ideal is in an emergency I grab the chain and get out.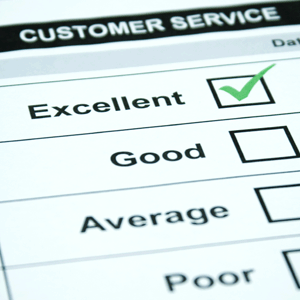 Lorraine E.on Mar 26, 2017, the Order was processed quickly and customer service reps were very helpful with questions.


Melanie H.on Mar 22, 2017, The turnaround time was quick, DVD and flash drive is great. The flash drive looks like a key, very cool. Will use them again in the future.
Susan H.on Mar 21, 2017, Great customer service – definitely want to continue to use!
Rosemary B.on Mar 21, 2017, Very good customer service.
---
Linda B.on Mar 21, 2017, We have thousands of photos. This process keeps them safe and in a manageable form.


Claudia S.on Mar 20, 2017, This company is GREAT!!! It's a scary experience to send off precious photos but the communication from this company is absolutely stellar throughout the entire process! They did a great job and very fast! I will use them again!!


Ashley H.on Mar 12, 2017, I sent my photos in. they were super prompt. sent me emails on updates and got all my pictures back with a disc.


Micki C.on Mar 8, 2017, I got my photos back fairly quickly and the quality was great. The price is a great price. Cost is why I never did this before.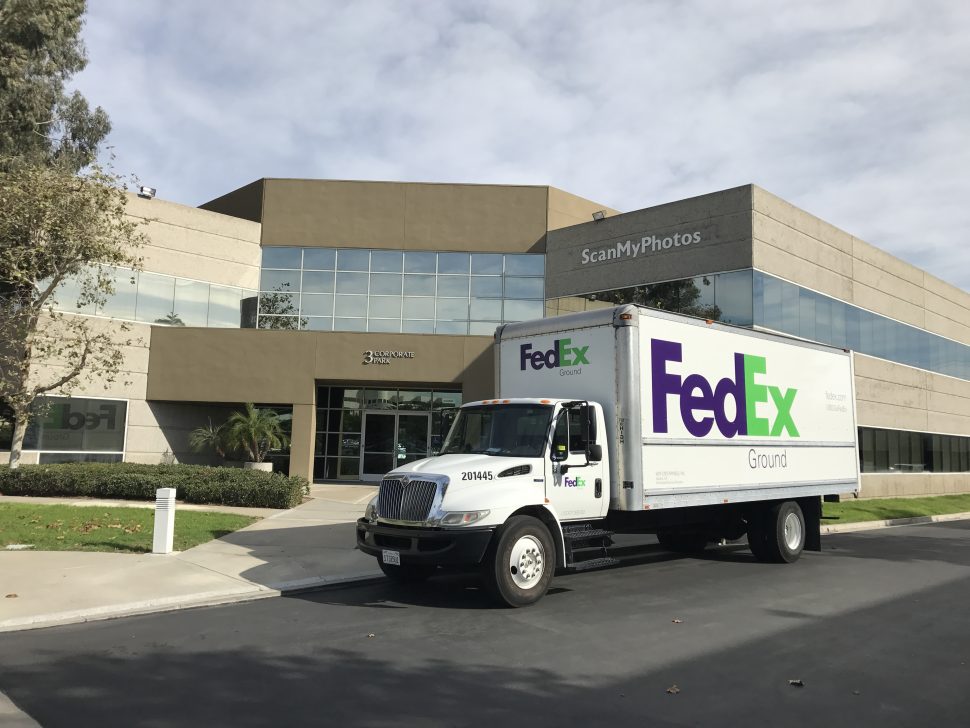 Marietta L.on Mar 3, 2017, My pictures were returned to me along with thumb drive and a DVD. I had them separated by date. They did exactly as I requested.


Linda S.on Feb 25, 2017, Great company Great job


Carolyn M.on Feb 24, 2017, Love the results! Both OLD black and white and photos from 1980-90 were included So glad I paid the additional for the photo index book! 1000 photos is still a lot to search through so using thumb drive and index book was wonderful!


Terry L.on Feb 12, 2017, The directions were very clear once I printed them out. Love all of my pics being in one place. A really cool thing that I did not know is that for additional charges I could have done all sizes (not just 4×6, and have had them all turned the same direction. Oh well, next time.
---


Robert R.on Feb 12, 2017, They did a great job scanning my photos.


Steve W.on Feb 10, 2017, Images to 8GB Flash Drive Share to Superb service, – excellent care of our photos and a great product! Highly recommend!


Betty C.on Feb 10, 2017, Great job! Prompt service – great results!


Micki C.on Feb 5, 2017, I waited until I got my first batches back to give a review because I wanted to see the quality. I paid extra for 600dpi and the pictures are awesome. The process took about 2 weeks and I thought it very timely.


Betty D.on Feb 3, 2017, Handles my pictures like precious crystal. Keeps me abreast of status. Ships back free and results are excellent.


Lisa B.on Feb 3, 2017, Great value. Great pricing. Great quality. Highly recommend them!
Noelle S.on Feb 1, 2017, It took a little longer than I expected but I am happy with the results. It feels good to have some very old and fading pictures preserved.


Cathyon Jan 27, 2017, This service is incredible if you have a lot of old photos you would like added to your digital files.
Barbara S.on Jan 18, 2017, Great service and product, delivered much quicker than expected. Thank you!


Autumm B.on Jan 12, 2017, Everything about this was great. And they have excellent customer service!


Maja L.on Jan 11, 2017, The customer service is excellent.


Barbara S.on Jan 11, 2017, Although I have not yet received the results I can say that Scan rep has been more than patient and kind with my lack of paperwork due to an errant printer. If such care was taken then, I am confident that my photos will be perfect.


Pauline F.on Jan 9, 2017, Couldn't download order form but they sent it to me quickly when I sent my photos in. Everything was well explained and simple. Received the DVD back quite quickly


Margaret A.on Jan 9, 2017, Great experience. Easy to use and will use them again.


Elizabeth P.on Jan 3, 2017, They have always done a great job for me.


Phil I.on Dec 29, 2016, This turned out to be an excellent way of dealing with the priceless photographs my mother left behind when she passed. It's important to follow the preparation guidelines to avoid any disappointments. Very impressed with the outcome!


Stephanie L.on Dec 29, 2016, Fast turn around and good quality.


Debra S.on Dec 26, 2016, Excellent quality, quick turnaround, well worth paying extra to have them rotated right side up.


Michael R.on Dec 23, 2016, Pictures can back on a dvd that was readable. All pictures were returned. Turnaround time was exactly what they stated. Great deal.


Karen C.on Dec 18, 2016, I can tell you that I was really worried about sending my one and only pictures to some address or place I didn't know. Guess what! They came back and were done perfectly. I would recommend this to anyone. Thanks, KC


Lisa Y.on Dec 17, 2016, I trust this company with my treasured photos (3000 so far!). I have sent several orders and all have been perfect! I got my sister on the scan my photos bandwagon and she is now using them even with our heritage photos.


Michelle on Dec 13, 2016, was Thoroughly impressed with their communication of my precious photos- from when they received them to scanning to returning them. They also did a fantastic job packing them back up and the CD was well done. I might suggest 600 dpi vs 300 dpi if you want them enlarged when you view them. A little grainy enlarged but smaller seemed fine to the naked eye. Have not tried to utilize calendars or anything yet. Thanks for taking care of my irreplaceable photos!


Shannon A.on Dec 10, 2016, I forgot to send my order form with my pictures. They were very helpful in clearing it up and getting my order processed. The customer service is fantastic.


Nancy K.on Dec 7, 2016, My DVD came out great!! It took about 10 days altogether. Well worth the money!
Clark C.on Dec 3, 2016, Telephone interactions were well beyond expectations. All representatives were intelligent, professional, literate, and kind. Although it's too early to have received the returned product (and our photos back), as of today, from all experiences before sending our photos off to them, I have no hesitation in highly recommending anyone to do business with ScanMyPhotos.com. Very impressive.
Stephanie L.on Dec 3, 2016, Fast service, Scanned photos look good.


Elizabeth P.on Dec 2, 2016, Love them and their work


Doug L.on Dec 1, 2016, Scans look great. The price was great also.
Dayle M.on Nov 22, 2016, I like the many choices for different picture groups. Good service


Pam K.on Nov 20, 2016, The service was very fast and the scanned photos are very nice. However, I packaged my photos in groups all rubber-banded together thinking they would scan them sequentially and they are all over the place. should have paid extra for the scanning that keeps photos in order. My fault, I guess.


May Y.on Nov 19, 2016, Great service and great quality. Thanks a lot!!!


Tish A.on Nov 15, 2016, Easy to work with. Quick turnaround.


Diana C.on Nov 10, 2016, Awesome service and fantastic results!! Well worth the price and much cheaper here than any alternative.


Jackie O.on Nov 8, 2016, Excellent service, great results, great communication with their customers.


Robert R.on Nov 3, 2016, Faster turnaround than expected! Scans came out great!


Laurie D.on Nov 1, 2016, It was such fun to watch the pictures in a slideshow and know I've captured a good sampling of my children's lives thru pics. It was great the vendor sent several emails letting me know they received my precious pictures, were processing them and then sending them home. Package rec'd was well packed.


Maryann G.on Oct 31, 2016, They keep you informed along the way to put your mind at ease about your precious photos, thanks!


Teresa A.on Oct 24, 2016, They are very good at keeping me informed as to where my priceless photos are in the process. That is very important to me.
---


Ian F.on Oct 16, 2016, I have now sent my 5th scanning package to ScanMyPhotos. Every set has been scanned perfectly. The turn around time is shorter than promised. They also have helpful support as I found out when I inaccurately filled out the form. I found the old photo prints were useless as I couldn't find one when I wanted it, the scanned versions save that problem making finding pictures a breeze! I highly recommend ScanMyPhotos, you can pay a lot more for this service, but you get more for your money. Note that I have the high-resolution scan option added, 600 dpi scans come out great. I'm amazed I had collected 5000 photos.


Marilou L.on Oct 10, 2016, They always let you know when your photos arrive, when they are working on them, and when the CD is on its way to you. It really gives you faith in them.


Terez H.on Oct 4, 2016, I received my photos and disc in a timely fashion. I recommend this service to anyone who wants a myriad of photos digitized quickly and easily.