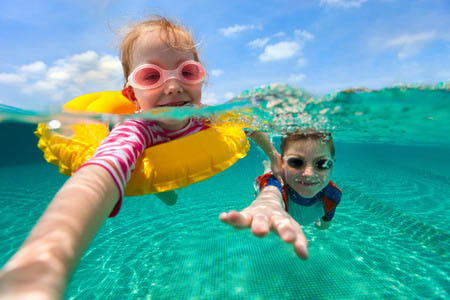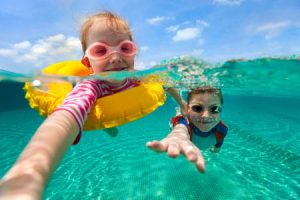 With temperatures around the country going sky-high, let's take this party down to sea-level. Or, at least, water-level. It's time to grab an inner tube and head out to the nearest beach or pool – and hey, don't forget your camera!
Taking photos in the water can be magical – everyday moments become gravity-defying, ethereal masterpieces. Whether you're capturing shots of goofy kids, tropical fish, or attempting an ultimate ocean selfie, you're sure to come away with photos (and memories) that you'll want to hold onto when the days turn colder.
Here are 5 tips for making those underwater photos the best ever:
1. Get a camera that is (truly) water-safe
Waterproof cameras don't have to cost you an arm and a leg – you can get a disposable one for as little as $6. If you have a little more to spend, here is a list of good options starting at $95. You can also get a special waterproof case for your smartphone, but buyer beware! Not all waterproof cases are meant for extended submersion – read the product specs carefully and do a test first in your sink to make sure all seams are sealed before trying it out in the real world.
2. Your camera might be water-safe, but are you?
Unless you are the next Jacques Cousteau, you would do well to use caution when shooting – be aware of your surroundings, especially in oceans, rivers, and lakes, and don't try to do more than your swimming abilities will allow.
A good ocean rule to follow: never turn your back on the waves.
3. Sometimes it's a good thing to be shallow
A lot of really neat things can happen at the water's edge – take advantage of light effects such as sunbeams and reflections, or take things to a whole new level by shooting half your shot above and half below the surface.
4. Let it shine
Lighting is really important to underwater shooting – a day that is too cloudy or dark can make your photos murky and your colors muted. Choose a time of day where the sun is really strong, like mid-afternoon, to get bright colors to pop. Cloudy day? Use a flash.
5. Get close. Okay, now get even closer.
For underwater photography, closer is always better. It may feel uncomfortable, but if you can safely get within 12 inches of your subject, you'll be able to capture intricate detail that will make it worth the extra effort.
---
ScanMyPhotos top-ranking recent articles:
How to Photograph Fireworks: 6 Tips from Experts
5 Photogenic Vacation Spots to Inspire Your Wanderlust
Memorial Day Historical Photos and Stories: Remembering Our Nation's Fallen Heroes
How New iPhone App The Roll is Raising the Bar for Photos
Google Photos Newest Features and Latest Reviews
The Work Project that Lead to the Preservation of a Family's Legacy
6 Must-See Photo Recreates that are Almost Better than the Originals
7 Tips for Taking Better Videos with Your Smartphone
Hawaiian ScanMyPhotos Customer Ships Precious Photos Across the Pacific
How to Become An Instagram Star
5 Must-Try Fashion Photography Tips and Tricks for Beginners
Rebecca Brand Shows How To Scan Photos (video)
Photography News: Recent Updates to Instagram, Snapchat, Flickr, and Google Photos