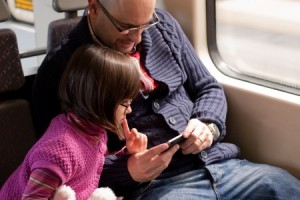 Lights! Smartphone! Action! These days it's all too easy to take videos whenever and wherever you are – no special equipment or cinematography skills needed. Just grab your smartphone, point, and shoot. But when it comes to smartphone videos, "easy" doesn't always translate to "good." Here are some tips for improving your own smartphone videos:
1. Turn that phone sideways
Computer screens and televisions are landscape-oriented (they are wider than they are tall). So why would you shoot your videos tall and skinny? Before you hit record, be sure to rotate your smartphone 90 degrees to get the best shot possible.
2. Take a second to strategize
You're at your niece's wedding and she's getting ready to walk down the aisle. You take your phone out of your purse and assume the position. But before you start shooting, take a second to think about your purpose for the video. Do you just want something you can watch later on your device? Or, are you going to want to share the video by posting it on Facebook and emailing it to your sister in Omaha? If you'd rather share the video (and don't want to have to fuss with editing it later), take a series of shorter clips – no more than two minutes each. Video files can get very large in size; smaller clips will be much easier to share and send.
3. Choose your moments
When it comes to shooting video at an event, be selective and focus on key memories. Your friends and family will prefer shorter clips of your niece walking down the aisle, kissing the groom, and tossing the bouquet to a 45-minute exhaustive recording of the ceremony. Don't worry about missing something – odds are someone else will have their own videos to share if there is a spontaneous moment later.
4. Get in there
Most smartphone videos do have zoom feature available, but using it results in poor quality videos that are pixelated and grainy. If you can, physically move closer to whatever you are filming to get the best shot – the closer, the better.
5. Let there be light (but not too much)
Filming in dark rooms can be a challenge, but so can scenes that are backlit. Be sure to pick the right angle to shoot from, and avoid overly dark locations.
6. Give it a rest
If practical, find a table top or hard surface where you can rest your phone – it's easier than having to keep your hands and arms steady for countless minutes of filming. Alternatively, invest in a tripod that can be used with your phone.
7. Think logistically
How much battery life do you have left? Does your smartphone have enough space to house your new videos? Pace yourself according to your device's limitations, and don't forget to back up your videos to your PC after it is all said and done.
Speaking of backing up, you'll also want to ensure your home videos on VHS and 8MM films are preserved as well. Send them to us today and we can transfer them to DVD for you!
---
ScanMyPhotos top-ranking recent articles:
How to Become An Instagram Star
5 Must-Try Fashion Photography Tips and Tricks for Beginners
Rebecca Brand Shows How To Scan Photos (video)
Photography News: Recent Updates to Instagram, Snapchat, Flickr, and Google Photos
Photo Organizers Rejoice: Google Photos Just Got Even Better
The Future of Photography: Developing New Trends to Taking and Storing Pictures
How to Take Phenomenal Product Photos
Photo-Sharing Image Recognition Tools Advocacy Campaign #SupportBFR
100 Years of Photos Reveal an Incredible Family History and Journey
Attention Photo Lovers: Google Cloud Vision API Enters Beta Testing