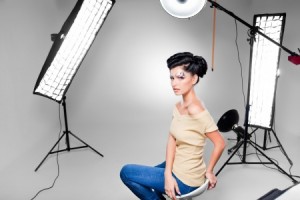 Style has come a long way over the years. If you're curious to see just how far it has come, take a look at this Cosmopolitan article, What People Were Wearing the Year Your Were Born. From 1940's vintage photos of big fur coats and tiny purses to the big hair and tight pants of the 1980's, the styles that were captured over time provide us with glimpses into the real-life past of fashion trends.
As such, it's important to keep taking and preserving fashion pictures, whether you're showing off cool outfits on Facebook or documenting the looks of our time. So, to help beginners get the fashion photography basics, we created this list of our favorite tips and tricks. Check it out.
Convey authority
In a fashion photo shoot, confidence is key. The models gracing the covers of Vogue or GQ always look like they are ready to take charge—and this sense of confidence is alluring. However, oozing an aura of authority isn't isolated to the model. A photographer must also show confidence in how they manage the shoot. They're the ones directing the final shot and they must assure their subjects that they are in control. It may sound silly, but even the photographer's confidence can show up in the final photo.
Pay attention to the details
Sometimes fashion photographers want to focus solely on the clothes, but you should also consider all the little details that make up the photo, too. Don't forget to add the right jewelry, use makeup that suits the look, and find an excellent background to compliment your photo.
Work in a studio when possible
A studio setting offers a number of benefits to photographers—mostly in terms of greater control. In a studio you can control the lighting, the mood, and the background to create the desired effect. If you don't have access to a studio you can also try to create your own fashion studio at home. Clear some space by a large window that gets a lot of sun and drape a white sheet or fabric over the glass. This will give provide a soft, flattering light for the subject.
Capture the right pose
Similar to confidence, capturing the right pose for your fashion statement is important. There are many poses you can copy from reputable fashion magazines, but you also need to find the right pose that works for your model and the clothing they're wearing. Play with several poses and take lots of photos to test each pose out. Then, simply review the photos and see which look works best. Once the pose is nailed down, you can re-take your pictures, but this time you can concentrate on other aspects of the shot.
Use props
Handbags, flowers, toy poodles, apples, an American flag—the sky is the limit in terms of the types of props you use for your fashion shoot. If, for example, you're capturing an outfit that would be perfect for an afternoon date, consider giving the photo a picnic theme with a fully stocked picnic spread. This will give a playful feel to your photo.
Overall, fashion photography is the merging of two art forms so remember to get creative and, above all, enjoy the process.
---
ScanMyPhotos top-ranking recent articles:
Photography News: Recent Updates to Instagram, Snapchat, Flickr, and Google Photos
Photo Organizers Rejoice: Google Photos Just Got Even Better
The Future of Photography: Developing New Trends to Taking and Storing Pictures
How to Take Phenomenal Product Photos
Photo-Sharing Image Recognition Tools Advocacy Campaign #SupportBFR
100 Years of Photos Reveal an Incredible Family History and Journey
Attention Photo Lovers: Google Cloud Vision API Enters Beta Testing
10 Tips to Make #Throwback Thursday a Viral Hit
5 Famous Photographers and What We Can Learn From Their Perspective
How a Downsizing Project Became a Family Bonding Experience