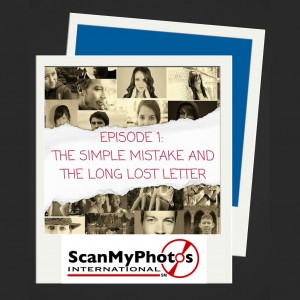 Welcome to the debut episode of our new podcast: Tales From the Pictures We Saved.
We've spent the past 26 years helping our customers preserve tens of millions of happy memories, milestones, achievements and events—all of which have incredible stories behind each and every photo.
And now we're eager to share these stories with you.
In this episode, we explore the story of ScanMyPhotos customer Melissa Mayberry.
As Melissa went through the photo scanning process, she found that a simple mistake lead to a beautiful and touching moment in her life.
Do you have a photo story to share?
Contact us today and your tale could be featured on an upcoming episode!
This episode features music by Bensound.com and narration by actress and comedian Mandy Martino.
---
ScanMyPhotos top-ranking recent articles:
Memorial Day Historical Photos and Stories: Remembering Our Nation's Fallen Heroes
How New iPhone App The Roll is Raising the Bar for Photos
Google Photos Newest Features and Latest Reviews
The Work Project that Lead to the Preservation of a Family's Legacy
6 Must-See Photo Recreates that are Almost Better than the Originals
7 Tips for Taking Better Videos with Your Smartphone
Hawaiian ScanMyPhotos Customer Ships Precious Photos Across the Pacific
How to Become An Instagram Star
5 Must-Try Fashion Photography Tips and Tricks for Beginners
Rebecca Brand Shows How To Scan Photos (video)
Photography News: Recent Updates to Instagram, Snapchat, Flickr, and Google Photos