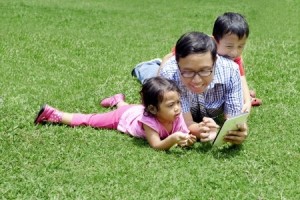 Do the fathers and father figures in your life love all things technology or gadget related? If so, there are plenty of affordable tech gifts to give this year for Father's Day—many of which don't need to break the bank, either.
Here are a few of our favorite Father's Day tech gifts under $60 that we think the dads in your life will love:
With this $25 Andoer Head-mounted Google Cardboard Version 3D VR Box your dad's smartphone can transform into a virtual reality experience. Simply download a few virtual reality apps, slide the phone into the headset, and watch dad get transported to a whole new world.
Tile is a handy little product that ensures you will "never lose anything again." You can attach the Tile tracker to anything you want to keep track of—laptop, wallet, keys, phone, purse, etc. From there the Tile phone app will help lead you to the item you're looking to find. The best part is that this nifty, everyday item is only $25.
Toughglass screen protector
Scratched, cracked smartphone screens are the absolute worst. How are we supposed to take, share, and view incredible photos and videos with our loved ones when our screens are busted? Well, Ventev Toughglass is here to solve that problem by offering shatter-resistant glass screen protection with exceptional clarity. For $59.99 and under, these screens will keep dad's phone safe.
Remote control helicopter with camera
Move over "selfie"—the "dronie" will soon be the best way to capture our own image on camera. With the Haktoys Video & Photo Camera 3.5CH Helicopter dad can fly his new toy, and record video and take photos from up, up and away. The best part? This high-flying novelty is only $59.99.
Aluminyze takes any photo you send and digitally infuses it onto a sheet of aluminum. The result is a photo that's permanently sealed on a UV and scratch resistant surface. Dad will love both the sentimentality and cool factor of this gift. An 11×14 print is available for $59.95.
A ScanMyPhotos gift certificate
As we know around here, photos are priceless. They are often that one item people say they would save if their house was burning down. Why not help the dads in your life continue to keep those priceless items safe with a ScanMyPhotos gift certificate? With a $50 gift certificate, you can help dad digitize his photos and preserve precious memories.
---
ScanMyPhotos top-ranking recent articles:
Memorial Day Historical Photos and Stories: Remembering Our Nation's Fallen Heroes
How New iPhone App The Roll is Raising the Bar for Photos
Google Photos Newest Features and Latest Reviews
The Work Project that Lead to the Preservation of a Family's Legacy
6 Must-See Photo Recreates that are Almost Better than the Originals
7 Tips for Taking Better Videos with Your Smartphone
Hawaiian ScanMyPhotos Customer Ships Precious Photos Across the Pacific
How to Become An Instagram Star
5 Must-Try Fashion Photography Tips and Tricks for Beginners
Rebecca Brand Shows How To Scan Photos (video)
Photography News: Recent Updates to Instagram, Snapchat, Flickr, and Google Photos