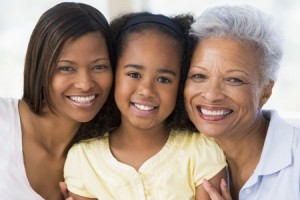 We hate to be the ones to break it to you, but it's already May. We're not entirely sure how this happened, but think it's possibly related to fun being had while time was in flight.
Now that it's officially May, it means you now have less than a day to perfect your salsa recipe for Cinco de Mayo, and, more importantly, only three shopping days left before Mother's Day on May 8th. While we can't help you with the salsa recipe (or can we?), we do have a few thoughtful Mother's Day gift ideas to help out our fellow last-minute shoppers. Check it out:
1. Canvas Print
Take a family photo, or other treasured snapshot, and convert it into a work of art! These days it's easy to get your favorite memory printed on professional canvas so that it's ready to hang mom's living room on May 8th. You really don't need to worry that you've waited too long—Walgreens offers same-day photo canvas services available in select locations, with pricing starting at $29.99.
2. Digital Photo Frame
Sure, digital frames have been done before, but they have improved leaps and bounds from the clunky model you probably bought when they first came out. The new models are elegant and savvy—you can even connect them to your smart phone and social media accounts. A quick search on Amazon shows some beautiful options at varying price points, and (of course) fast ship times.
Bonus: This is a great way to make use of all the photos you had scanned by ScanMyPhotos.
3. The gift of FUN
Does your mom complain that she has too much stuff? Give a gift she'll remember—time with you. Does she love to dance? Take her to a Zumba class. Has she always wanted to paint? Take her to a wine and canvas event. If she's more into relaxation, then book a spa day! She'll love spending time with you, and you'll both come away with some fun memories.
4. A good book
For the mom who treasures time spent reading in a comfy chair, a good book is valued above all else. Pick one up at Barnes and Noble, or order last-minute from Amazon.
Some of our favorites include…
If she loves epic, sweeping stories: Ella Ferrante's Neapolitan Novels
If she is an anglophile: Emma Thompson's Sense and Sensibility: The Screenplay and Diaries
If she loves light-hearted, witty love stories: Graeme Simsion's The Rosie Project
If she loves [irreverent] humor: David Sedaris' Let's Explore Diabetes with Owls
5. The gift of organization and preservation
Help your mom restore order and keep long-lost memories safe by getting her a gift certificate to Scan My Photos! It will be a load off her mind to have all her treasured family photos digitized for safe keeping, and will open up opportunities for her to share and display these gems as never before.
To all the mothers and special women in our lives, the gang here at ScanMyPhotos wishes you the happiest of Mother's Days!
Enjoy!
---
ScanMyPhotos top-ranking recent articles:
6 Must-See Photo Recreates that are Almost Better than the Originals
7 Tips for Taking Better Videos with Your Smartphone
Hawaiian ScanMyPhotos Customer Ships Precious Photos Across the Pacific
How to Become An Instagram Star
5 Must-Try Fashion Photography Tips and Tricks for Beginners
Rebecca Brand Shows How To Scan Photos (video)
Photography News: Recent Updates to Instagram, Snapchat, Flickr, and Google Photos
Photo Organizers Rejoice: Google Photos Just Got Even Better
The Future of Photography: Developing New Trends to Taking and Storing Pictures
How to Take Phenomenal Product Photos
Photo-Sharing Image Recognition Tools Advocacy Campaign #SupportBFR