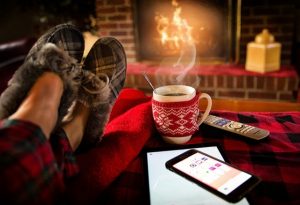 The days are getting shorter and the temperatures are falling. For many the winter months are a time of isolation and weariness—but this is not the case for the Danish.
Scandinavians are no stranger to long, dark, and cold days, but rather than begrudgingly deal with the winter blues, they've found a way to embrace it through the concept of hygge.
What is hygge?
Pronounced "HUE-gah," hygge is the feeling or quality of a sense of coziness and the feelings of warmth and contentment it produces. Sometimes this can mean the warmth of a fuzzy robe after a luxurious massage, but it mostly focuses on the simpler things in life—a cup of steaming hot tea, woolen socks, cuddling with your pet on the couch. The act of indulging in these moments and finding contentment in them is the heart and soul of what hygge is.
Spend time with the family
Schedule a game night, bake cookies together, or take turns reading short stories aloud (bonus points if the stories are warm and fuzzy or fun and entertaining). The practice of spending quality time with your family is an important aspect of hygge—so much so that often Friday nights are solely reserved for familiehygge.
Create the atmosphere
To create a hyggelig home you'll want to focus all of your energies on making the atmosphere as warm, cozy, and inviting as possible. You can do this by:
Making a simmering stove-top potpourri of cinnamon, vanilla, apple, cloves, and lemon.
Adding twinkling or fairy lights throughout the home.
Lighting candles.
Ensuring fuzzy blankets are always within arm's reach.
Posting pictures of warm and cozy moments with loved ones.
Keep things clean and simple. There's nothing that ruins this atmosphere quicker than clutter.
If you have a fireplace, get a fire going. It's the quintessential symbol of coziness.
Take a timeout
It's so easy to get caught up in the stresses of everyday life. And once we board the anxiety train, it's hard to jump back off. But when we make the decision to bring hygge into our lives, an important aspect is living in the moment and finding contentment in the simpler things.
So, if you're having a bad day at work, step away from your desk and just enjoy the simple act of pouring yourself a nice warm cup of tea or coffee. Admire the swirls of steam rising up from the cup or the sensation of warmth it radiates when you clasp your hands around it. Before you know it, your stress will melt away.
Practice self-care
You can treat yourself to hygge without ever having to break the bank. Schedule time to cozy up with a good book at night or draw a nice warm bath and sprinkle in some Epsom salts or essential oils. The winter can be harsh on our bodies, minds, and spirits so taking the time for self-care is vital.
One of the most important aspects of practicing hygge is clearing away the clutter and focusing on simplicity. And we know one of the biggest clutter offenders many of our customers experience is too many print photos taking up space in the attic or closets. Send them to us to scan today, and then focus on which photos best represent the concept of hygge to strategically feature in your hyggelig home.
---
Trending ScanMyPhotos articles
Give Your Loved Ones the Gift of Less Stuff this Holiday Season
Swedish Death Cleaning is the Latest Trend to Sweep the Decluttering Space
5 Photo Challenges You'll Want to Participate in on Social Media
What to Remember a Moment Forever? Science Says Do This
8 Holidays and Special Occasions Where Photos Make the Perfect Gift
Why We All Need to Observe Fire Prevention Week
ScanMyPhotos Is Offering an Insane One Cent Photo Scanning Deal, Here's Why
7 Pro Tips on How to Take Sunset Pictures
The Surprise Anniversary Gift that Garnered Happy Tears
While DNA Tests Offer a Peek into Family History, Your Genealogy Efforts are Missing This
#DoSomethingGrand, Scan Your GrandParent's Photos For #GrandparentsDay