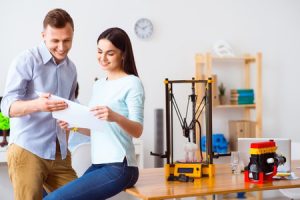 Move over, picture frames – there's a new game in town. Companies all over the world are capitalizing on advances in 3D-printing technology to change the way we interact with our photos. Flat images are transformed into 3D creations you can touch, and this is just the beginning!
If you're ready to take your pics to the next level, you have some options. Companies like Bumpy Photo will take your existing photo and convert it into a "popped" relief/ sculpture using depth map software. Think of the resulting effect as bumpy terrain on a map – the people and objects will "pop" out of a flat background, adding depth to the hard resin replica. Bumpy Photo won't scan your photos for you, so they recommend you use a scanning service to get them ready.
If you're willing to go the extra mile, you can get high quality 3D figurines made of yourself, your family, or even your pets. 3D studios like TWINKIND or 3D StatYou use multi-camera systems to simultaneously capture your image from all angles, and use the resulting images to produce a 3D model. These free-standing figurines look incredibly life-like and can cost anywhere from $60 to $700+ depending on the scale and company.
How does 3D printing work?
The first step in 3D printing is to create a virtual design using modeling software. The software prepares a 3D model using a technique called slicing. The 3D model gets "sliced" into thousands of thin layers – horizontal cross-sections of the end product. The 3D printer then uses an additive process, laying down slices on top of each other until the entire model is rendered. 3D printing can support a variety of materials, but for 3D photo rendering the most common seem to be resin or gypsum.
Now you can send a 3D figurine of your children to your parents who live across the country, or bring your wedding day to life in ways that weren't possible before. But the sky is the limit with this exciting technology – we can't wait to see where it goes next!
---
ScanMyPhotos top-ranking recent articles:
Tales From The Pictures We Saved – Episode 3: Remembering the Difference We Can Make
Why ScanMyPhotos Customers Will Benefit from Pinterest's Camera-Search Tech

ScanMyPhoto's Customer Helps Grandparents Connect with Grandkids via Technology
Beyond the Frame: 6 Crafty Photo Ideas to Take Your Pictures to the Next Level
Must-Read Photography Tips for Amazing Family Portraits
5 Tips for Taking Amazing Underwater Photos
How to Photograph Fireworks: 6 Tips from Experts
5 Photogenic Vacation Spots to Inspire Your Wanderlust
Memorial Day Historical Photos and Stories: Remembering Our Nation's Fallen Heroes
How New iPhone App The Roll is Raising the Bar for Photos
Google Photos Newest Features and Latest Reviews
The Work Project that Lead to the Preservation of a Family's Legacy