CES announces "Ivanka Trump Will Join CES 2020 Keynote Stage on The Path to the Future of Work." ScanMyPhotos Says Not So Fast! Did CES® Capitulate to Nepotism by Inviting Ivanka Trump to #CES2020?
Open message to CTA, all CES exhibitors, attendees, and the media,
Why Ivanka? Is she out-of-her-depth? As a CES attendee for three decades, I, along with many have celebrated that the global technology event was always about disruptive innovations, not polarizing political distractions.
This year, ScanMyPhotos is skipping CES and making an urgent appeal for them to get back on track with less political gesturing. Return the focus towards the thousand of exhibitors — and the entrepreneurial innovators at Eureka Park™ and at Last Gadget Standing. The media is now distracted. Attendees are tweeting hashtags like #BoycottCES2020. All should be profiling breakthrough new technology innovations. What are you doing to lend your voice to urge CTA™ to rescind Mrs. Trump's invitation?

CES was all about innovations and technology
Nepotism is discouraged in politics. It is just as problematic in business and maybe why she is attending "the global stage for innovation" on January 7th at 2 PM (PT) in the Venetian's Palazzo Ballroom
[Editor's note: The Palazzo is owned by Sheldon Adelson, who according to Wikipedia donated "$25 million to Donald Trump's 2016 presidential campaign, making him the largest donor to the Trump campaign and the largest donor in the presidential election."]
The spotlight must be on the exhibitors who invest to present their innovations. Yet, unnecessary controversy has erupted at CES. Since learning that Ivanka Trump was invited to a coveted roundtable discussion at CES, I have yet to identify widespread support for the invitation. Have you? Why were so many female champions overlooked as CES capitulated to the president's daughter? There are way too many feature stories like this: "'Terrible Choice': CES Chooses Ivanka Trump to Keynote at Major US Tech Expo."
This is going to be awkward if during the Wednesday presentation the audience asks for clarification on this. See, back in 2016 Gary Shapiro, president, and CEO of thje CTA™ trade association (tongue-in-cheek) wrote this Medium op-ed: "Brace Yourself for a Trump Presidency."
"President Trump will cross party lines and cut deals to move us forward;

President Trump will be creative in problem-solving;.

President Trump will hire well and has a sterling business record to prove it;

President Trump will be a role model for our children and the world."
When Mr. Shapiro introduces the president's daughter during their panel discussion, will mockery ensue as many remember his previously authored admonishments of Donald Trump?
Gary Shapiro (Medium): "Unless the Republican National Committee brokers the convention this summer, there's a frighteningly real chance Donald Trump could become the Republican Party's nominee and maybe even our 45th president come January. Perhaps it's time to stop fretting about whether Trump will be president and think for a moment about what exactly the presidency of an unprincipled deal-maker who defends quoting Benito Mussolini would look like."
Gary Shapiro (Medium): "Donald Trump Doesn't Represent the Best of America: Why it's Time for Him to Go. Following Trump's recent string of outrageous and headline-grabbing statements about everything and everyone from our border with Mexico to Sen. John McCain's military service, any respect or affection I had for Donald Trump is gone. I found his comments about Hispanic immigrants not only racist and disgusting but also totally untrue. My experience with Hispanics is that they are talented and determined, often working two or three jobs to support their families. They do jobs American citizens avoid. To disparage undocumented Hispanics as racists and murderers is contemptible and wrong. As for me, I will not hold meetings at or visit any Trump property or even watch any Trump TV show until he drops out of the presidential race and apologizes to those he slandered."
With an economy of bandwidth for media exposure during CES, exhibitors can exhaust millions of dollars to score awareness. Yet much of the noise and scrutiny about the president's daughter is eclipsing the event's mission. Because she is Mr. Trump's surrogate, perhaps equal time should be offered for the other top presidential candidates or their surrogates to equally speak?
---
This is a feckless stunt and yet another dumb one from the leaders who once brought you tech in pink display for the ladies. The event lost the narrative long ago and I no longer attend as it's just a loud and irksome trade show. I expect the keynote be as pointless as it sounds. https://t.co/uIei3qtOEN

— Kara Swisher (@karaswisher) December 29, 2019
"Ivanka Trump Criticized For Upcoming CES 2020 Appearance," by Catherine Armecin at International Business Times (Dec 14).
Whoa! #CES2020, the largest tech conference is all about disruptive innovations, not disruptive controversy to draw away attendees, exhibitors and attention. Just got very complicated.
More:
#NoIvankaCES https://t.co/sQUr8CtXZthttps://t.co/zquKokPkxPhttps://t.co/pCMoCUVXyv

— ScanMyPhotos.com® #CES2020 (@ScanMyPhotos) December 27, 2019
Betting a lot of techies are glad Ivanka Trump is keynoting CES, because it gives them a more persuasive excuse to skip the entire thing.

— Dan Primack (@danprimack) December 30, 2019
You have got to be fucking kidding me https://t.co/9UTOvR7NUu

— drew olanoff (@yoda) December 29, 2019
As a nationally-known activist on important business and social issues, I was pleased that prior concerns led to resolutions like having IBM and AMD's female CEO's keynote. More on: "How Businesses Use Economic Activism and Social Media For Advocacy Projects."
"Why CES Must Prioritize Diversity to #ChangeTheRatio."
Adweek: "With No Women Keynote Speakers, Does CES Have a Diversity Problem?"
---
Last time I launched an advocacy campaign targeting CES it worked!
•https://t.co/7MnuOMuDXS
•https://t.co/T0U1yXQmpU
The next year, IBM and AMD's female CEO'S keynoted. If Ivanka Trump goes, I'm out, cancelling, protesting. First time in 30-yrs not attending #CES2020.
-Mitch

— ScanMyPhotos.com® #CES2020 (@ScanMyPhotos) December 27, 2019
Past conversations and fury resulted in FCC Chairman Ajit Pai withdrawing from also addressing CES due to similar controversy.
Part of the mounting pressure to rescind Ms. Trump's invitation is it may be considered as an official policy for the United States of America. Or, the opening salvo in the 2020 presidential election where equal time should be afforded to all top candidates. Her presentation may have far-reaching consequences for our nation and the world. Look how she previously used a global platform for her private businesses and personal brand.
On the surface, Ms. Trump's talking points are admirable. What could go wrong talking about "education, economic empowerment of women and girls, leveling the playing field for female entrepreneurs and job creators; and advancing the potential of women in our economy?" When it comes to the Trump family, this becomes a rhetorical question.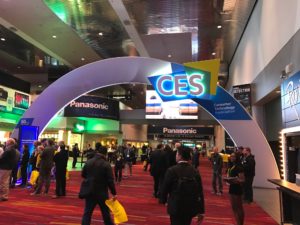 Are people at CES interested in hearing visionary wisdom by Ms. Trump? The glaring and metaphoric "elephant in the room" is that Ms. Trump represents one political party. Just as the White House restricts access to its guest list, who will meet with the president's daughter?
Will she be exploited by foreign governments or multinational conglomerates eager to curry favor with her father? Will they say: "I need a favor, though?"
Remember that painful-to-watch 19-second viral video of Ivanka Trump at the G20 summit? What new depths in nepotism may ensue at CES? Will her words engulf and eclipse the exhibitors' coveted media attention?
When all the cool kids start talking about the #GameOfThrones finale and you jump in the conversation even though you've never watched the show.#unwantedivanka pic.twitter.com/7v3aIk6lhp

— Keith Boykin (@keithboykin) July 1, 2019
---
https://twitter.com/scanmyphotos/status/1210587758697308160?s=21