Breaking news as Forbes Magazine raves on ScanMyPhotos
If you have been following our passion over the years to digitize the nation's photos, along the way, ScanMyPhotos has scored reviews from the top, A-list media. We just added Forbes to this list.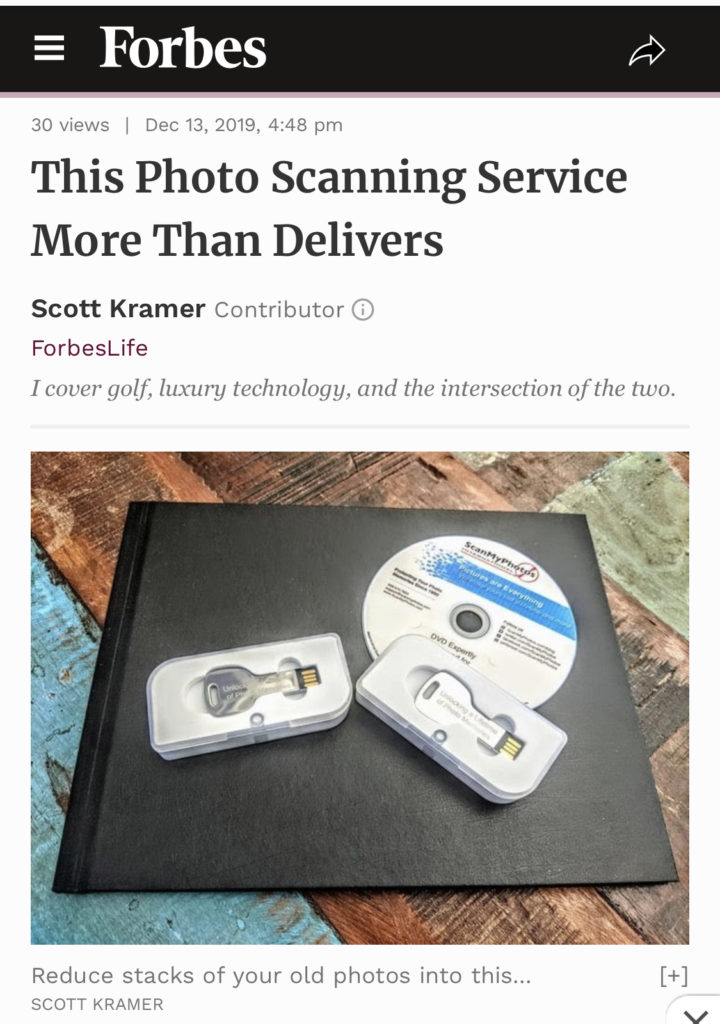 Excerpt as reported by Scott Kramer at Forbes:
And then I remembered about ScanMyPhotos.com, a popular service based in Orange County, Calif. I contacted them and within two days had a pre-paid return box at my house with instructions on how to fill it up with photos. Essentially, you organize the pictures by event and size and then put rubber bands around each of those "event" stacks. I did that and mailed the box back the next day. The photo service emailed me a confirmation when officials there received the box. In fact, that's one great thing about ScanMyPhotos.com — they email you every step of the way so you are always in the loop and know what's happening next. They had my photos scanned within the day and already had sent me confirmation (with tracking number) of the box of originals being returned to me and a link to the photo scans online. When the box arrived, it not only had my photos in there, but two USB sticks loaded with the scans. The USB sticks are each shaped like a house key and encased in a plastic box for protection. There was also a DVD with the images on it.

But perhaps the coolest — and most unexpected — item in the box was a bound coffee-table-style photo album of all of our photos, with individual numbers for referencing the images on the disk. As my wife said, "That alone would've made me ecstatic with the service." I couldn't agree more.




Another pleasant surprise: The excellent quality of the scans. Every photo was vibrant, clear, and color-corrected. We were beyond impressed with the entire service, speed, and quality, and have already recommended it to several friends. It makes a fantastic and affordable holiday gift for a loved one — and helps clean up the house while preserving memories permanently before they fade away.
---
---