Congratulations! You just scored a 50% discount to have your pictures scanned. No minimum and free S/H. Use "50OffScan" promo code at checkout. More details. [Prepaid fill-the-box photo scanning only].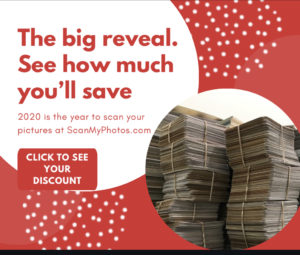 Digitizing photos just got a whole lot more affordable. This is a real game-changer discount. Something so crazy that you'll want to rush to share it with everyone.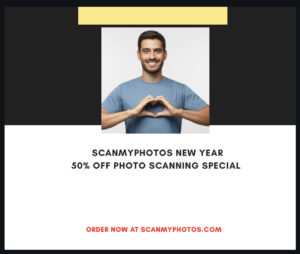 This is that deal. And it is the first time ScanMyPhotos has designed something this compelling. With you in mind, as our holiday super deal.
Today save 50% on photo scanning prepaid boxes
SAVE 50% PLUS FREE S/H
No minimum
Discount applies to all add-ons
---
Order Today at ScanMyPhotos. MUST USE THIS PROMO CODE: "50OffScan"
It cannot be applied to prior orders. Excluding applicable sales tax. Void where prohibited.
We recommend selecting from this menu of other popular add-ons and you also save 50%: