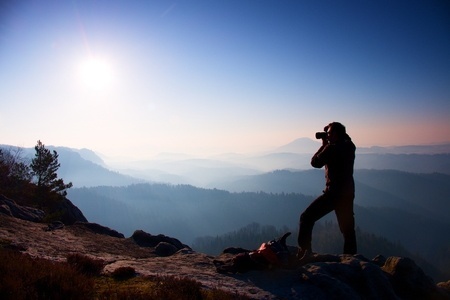 Photography truly is an art form. We can learn it, study it, and dissect it, but sometimes art is just art. Yet, there are many photographers out there who have dedicated their life to this art form and they have so much to teach us.
Let's go behind the lens of our favorite photographers to see what we can learn when we view life from their perspective.
The work of Ansel Adams is iconic. His black and white landscapes of natural scenes, typically taken in the American West, can be found on posters, book covers, wall art and calendars.
What we can learn: Ansel Adams and Fred Archer worked together to create the photographic technique called the Zone System, which resulted in the clarity and depth found in Adams' photos. This technique determines the optimal film exposure and development. While this system was originally developed for black-and-white sheet film, it can be applied to digital photography as well.
There's a single photo that's the unofficial representative of the Great Depression—a photo of a worried mother who looks off into the distance while her two small children bury their faces away from the camera. Migrant Mother was captured by documentary photographer and photojournalist, Dorothea Lange whose incredible work humanized the faces of the poor during the Great Depression era.
What we can learn: A pretty sunset or picturesque scene is nice, but sometimes the photos worth taking are the ones that are gritty and real.
Five hours before John Lennon was shot and killed, Annie Leibovitz wrapped up a (now-famous) Rolling Stone photo shoot of Lennon and Yoko Ono. Since then, Leibovitz has taken photos of many icons and legends over the years, and her time spent at Rolling Stone, along with her bold use of lighting and color, is what landed her a position with Vanity Fair.
What we can learn: Liebovitz is often quoted as saying, "A thing that you see in my pictures is that I was not afraid to fall in love with these people." Emotion can—and should—fuel our photography so we can clearly capture the essence of our subjects.
Michael Muller (@michaelmuller7)
Known for his celebrity and advertising photos, Michael Muller has spent many years capturing familiar faces like Brad Pitt, Ben Stiller, Ryan Seacrest, Mark Hamill and more. He's taken some impressive shots of wildlife, including up-close-and-personal photo shoots with great white sharks.
What we can learn: Muller has a real knack with lighting. His use of light—especially with his celebrity portraits—cast incredible shadows that highlight the personality of his subjects in a unique and dynamic way. The play between lighting and shadow can be used to enhance the pictures you take.
Yousuf Karsh
This Armenian-Canadian portrait photography is referred to by the Metropolitan Museum of Art as, "One of the greatest portrait photographers of the twentieth century, [who] achieved a distinct style in his theatrical lighting." He captured the portraits of many legendary figures, including Martin Luther King Jr.
What we can learn: While Karsh was a master of studio lighting, the biggest takeaway we see from his work is his ability to tell a story. If every picture is worth a thousand words, then Karsh's photos transform those words into an article on the subject. The best example of this can be found in this photo of Dr. King.
This is only a small portion of the amazing photographers who have captured our past and present over the years, yet the lessons they hold for us are immense.
---
ScanMyPhotos top-ranking recent articles:
How a Downsizing Project Became a Family Bonding Experience
10 Most Popular Travel Destinations According to Your Photo Albums
8 Seriously Sweet Valentine Day Gifts for Photographers
6 Tips on How to Get Your Family Photos Digitally Organized
Why the Over-35 Crowd Needs to Start Using Snapchat Today
When a Gift Becomes a Touching Memorial to Life and Love
History of Photography, Eastman Kodak's Vaults
8 Must-Read Photography Books to Help Improve Your Skills