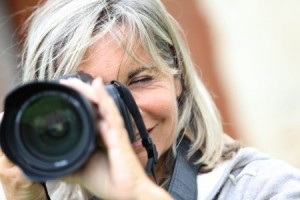 A constant state of learning is imperative to become a master in any craft—and photography is no exception. No matter what type of photographer you are—professional, amateur, novice—there is always useful information out there to help you take better, crisper, and sharper photos.
To help all our ScanMyPhotos customers continue to learn everything they can about photos, we've pulled together the following list of must-read photography books.
BetterPhoto Basics: The Absolute Beginner's Guide to Taking Photos Like a Pro
By Jim Miotke @betterphotojim
"If you can press a button, you can take great pictures." Sounds simple, right? Absolutely! With the founder of the online photography school BetterPhoto.com as your guide, this book will help you on your way to going pro.
Food Photography: From Snapshots to Great Shots
By Nicole S. Young @nicolesy
Taking photos of food is all the rage these days, and Nicole S. Young shows you how to do it the right way. But be warned, you won't want to open this book on an empty stomach.
Getting Your Shot: Stunning Photos, How-to Tips, and Endless Inspiration From the Pros
By National Geographic @NatGeo
Who better to teach the art of photography than National Geographic? This visually stunning book shows you how to take shots like a NatGeo pro.
How to Photograph Absolutely Everything: Successful Pictures From Your Digital Camera
By Tom Ang @Tom_Ang
If you're looking for a broad introduction on how to capture brilliant digital photos, then this is the book for you. Not only will Tom Ang show you the basics, the photos in this book are sure to spark inspiration.
Mastering Aperture, Shutter Speed, ISO and Exposure
By Al Judge @ajudexaz
Photo settings can be difficult to grasp, but this guide book makes it easy. You'll find useful information on every page, no matter what level of photographer you happen to be.
Read This If You Want to Take Great Photographs
by Henry Carroll @HenryCarroll
It's all in a name—this photography book tells you exactly what it's all about right up front.
Tony Northrup's DSLR Book: How to Create Stunning Digital Photography
By Tony Northrup @tonynorthrup
This is Amazon's #1 rated and best-selling digital photography book—and it's a sure-fire bet that will help any digital photographer refine and sharpen their skills.
Understanding Exposure
By Bryan Peterson @BMPPhoto
For any burgeoning photographer (and even some pros), getting the knack of exposure down can be a tricky process. This book demystifies the difficult concepts and breaks down new technologies in a way that everyone can understand.
As your photo skills increase, so will your archives of pictures. Make sure all prints are scanned and backed up so you can easily navigate through your collection and monitor your the improvement of your photography over time.