This year-round "spring cleaning" recommendation is a must to unclutter and organize all your analog photo snapshots, and now with a super bonus to get about 5,400* photos professionally scanned for under $300, with 3-way free shipping included.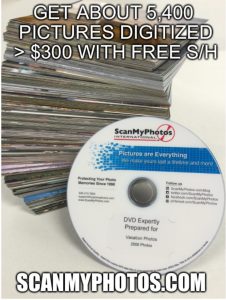 The biggest unclutter challenge for your home is what to do with decades of fading-away photo albums, how to unclutter and digitally organize your generations of old photo snapshots this fast. With hundreds of reviews, this profile from The Gadgeteer is the most recent photo scanning review.
This bonus sales page is our most popular link which reveals our super discounted ScanMyPhotos.com flash sale. Although we have professionally digitized 500 million photos, none are more important than helping you with your photo scanning project.
3 for 2 Special – FREE Extra Photo Scanning Box + Free S/H. Save $145 or More*
Choose from these popular add-on services to enhance your photo scanning experience:
Get about 6,000* photos scanned for $290 + free S/H. This super "spring cleaning" deal solves your entire photo scanning project, as we professionally digitize about 5,400* photos with free S/H. That's about 5-ce
nts per scan. Super-fast professional photo scanning returned in days. Loads of popular add-on features available. *This discount applies to Social Media Photo Scanning (150dpi) $145, Archival Photo Scanning (300dpi) $259, and Ultra High-Quality Professional Photo Scanning (600dpi) $299).
The New York Times, The Wall Street Journal, AARP, Real Simple, USA Today, KRON4 TV News, KTLA5 TV News and 100's more are raving about our most popular service. TechCrunch said, "ScanMyPhotos is one of the coolest services in the world."
---
DETAILS
FREE Extra Photo Scanning Box. MUST SELECT THREE TO VALIDATE
One week only to order
Order 3 boxes and pay just for 2* – INSTANT SAVINGS
Super-fast professional photo scanning digitized and returned within days. Loads of popular add-on features available
Upon ordering, your fill-the-box kit is usually mailed within 1 business day
Super-affordable. Includes all 3-way S&H, pay one price, $145 per prepaid 150dpi box, $259 for 300 dpi, and @299 for 600dpi scanning (buy 2 get 3rd free)
We rush, but you don't have to: You have up to 6-months to mail back each separate box.
*Each box holds about 1,800 pictures (based on the size of each photograph if all 4×6″ it is about 1,800).
*** MUST READ. The rule for Free Box: Because of this special rate, there will be no exceptions for any reason. If you want to take advantage of the "buy 2 get 3rd free," it MUST be at the time you place your original order and you must select three boxes. If you only select one or two, no discount applies. NO EXCEPTIONS. If you only order one or two box and afterward decided you need extra boxes to have more pictures scanned, we will under no circumstance retroactively validate this special offer – due to our super-low rates, fulfillment workflow operation and expansive volume. Please, do not ask afterward, but rather, buy the extra boxes now. All boxes must be delivered to the same address, no rerouting. Terms, restrictions may change, and applicable sales tax may apply. Offer may be canceled without recourse at any time. No other discounts, promo codes or prior order reimbursements can be applied to this special promo.
Thank you for your help in complying with these requirements. Enjoy this opportunity to digitally revisit all those wonderful photos from your decades past.
---