News Alert: Businesses must be using social activism to communicate and humanize their company.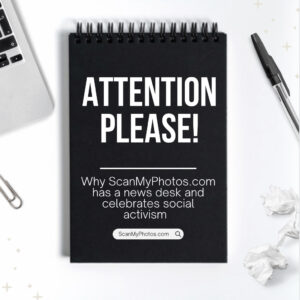 Social activism is how businesses can engage their audience, differentiate themselves, and show they are real. Here is why ScanMyPhotos does more than scan pictures
Businesses need to understand the importance of their voice. If your company isn't already talking about the issues that matter most, you are missing an opportunity to differentiate yourself from your competitors.
Suppose your communications team isn't acting like a newsroom. In that case, you are missing an opportunity to advocate on important issues, personalize your company and demonstrate there are real people behind the website.
FOLLOW THE SCANMYPHOTOS NEWS ON TWITTER [@ScanMyPhotosc]
Brand journalism is more than traditional marketing or issuing a jargon-filled boring press release. Corporate journalism is an overlooked megaphone to spotlight opinions, differentiate your enterprise, and use today's instant social media platforms.
Companies like ScanMyPhotos.com recognize that business is more than just selling stuff. It is about character and conscience. Our communications team runs fast, reads everything, and pivots quickly to identify and share insights to spark conversation and get people to think.
The world has changed so much in the last few years. Technology has allowed us to connect and made it possible for our voices to go unheard.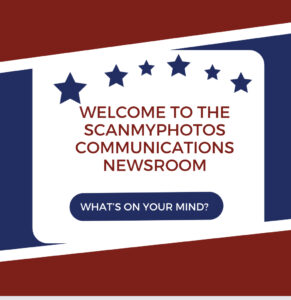 Now more than ever, it's essential for companies to use their voice to speak up about important issues.
At ScanMyPhotos, we believe it's not just important to talk about what we do and the things that inspire us—it's just as important to talk about the things that don't feel quite right.
In today's hyper-competitive landscape, businesses must be more than just a tool for promoting their products. They need to get vocal, become experts on important issues, and quickly respond to current topics.
That is why ScanMyPhotos is going beyond just preserving the nation's history of photographs. We are now providing a curated social media news desk to discuss current events and engage with you.
Follow along on the ScanMyPhotos Journal and Twitter [@ScanMyPhotosc]
How Businesses Use Economic Activism and Social Media For Advocacy Projects
Why U.S. Businesses Curtailed Business As Usual To Support Ukraine
Want news updates, discounts, and promo codes to save at ScanMyPhotos.com? Click here for our free "Tales From The Photos We Scan" email shares.
PHOTO SCANNING | SLIDE SCANNING | NEGATIVE SCANNING | VIDEO TO DVD |PHOTO RESTORATION | E-GIFT CERTIFICATE