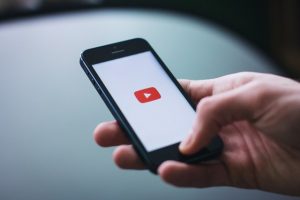 Remember back in the good old days when we would have family game nights where we would all get together for a memorable game of Monopoly or Trivial Pursuit? While board games are still around, our loved ones spend far more time on social media sharing pictures and videos. So, why not meet your family where they are and have fun along the way?
We pulled together a list of some fun social media video challenges you'll want to try with the family. Some are silly, goofy, or downright funny, but the creation of the video will help preserve those memories of fun shared with your loved ones. Check it out:
1. Try Not to Laugh Challenge
For this challenge, you'll need to find a compilation of funny video clips that your family will not be able to keep a straight face while watching. Think along the lines of America's Funniest Home Videos when picking out the right compilation on YouTube. Then gather everyone around the video camera and record the gang as they watch the compilation. The last one to laugh is the winner!
2. Accent Challenge
This challenge was inspired by the Ellen Show so it's sure to be a fun one. Create a set of cue cards with several different types of accents on them. One person holds up the cue cards so they can't see what it says, but the other person can. Then act out the accent to the person holding the cue cards and have them guess which accent is on the card. Some fun accents to try out include:
Pirate
Medieval maiden
Carnival Barker
Irish
Surfer dude
Rapper
British
Valley girl
3. Taste Test Challenge*
For this, you'll need a blindfold and an array of different foods. Go ahead and blindfold your participants, have them sample different foods, and ask them to guess what it is. Some fun, random foods to try include:
Pickles
Pop Rocks
Cheez Whiz
Mochi
Beef jerky
Marshmallow fluff
Dark chocolate
If you want to make things extra tricky, buy name brand versus generic brand products and see if they can accurately guess which is which. And, of course, keep the video rolling the whole time!
4. Ice Cream Sandwich Challenge*
This challenge is not for the faint of heart (or picky eaters!). Write out a list of various ingredients—that range from delicious to bizarre—which can be used to make the outside of an ice cream sandwich. This could include items like:
Graham crackers
Pop Tarts
Oreo Cookies
Pancakes
Nilla Wafers
Lettuce
Bacon
Bagels
Hamburger Patties
Cheez-Its
Then put each ingredient on a slip of paper and into a bowl for each family member to pick out of. Whatever that family member chooses, they have to eat it. Film the reactions to make for a truly memorable dessert night.
5. Blindfolded Makeup Challenge*
If you're looking to create a fun reaction video, this is it. Blindfold a family member and break out the makeup kit. Let the blindfolded loved one use the kit to add makeup to another family member's face. You won't believe the types of looks you'll get at the end of the video!
While it's important to create new video memories, it's also imperative that we preserve our old ones too. Send us your VHS family movies today and we can digitize them so you can hang on to them for years to come.
*Get a list of known allergies from participants before trying any of these challenges and be sure to exclude any allergens from the challenge.
---
Trending ScanMyPhotos articles
5 Photo Challenges You'll Want to Participate in on Social Media
What to Remember a Moment Forever? Science Says Do This
8 Holidays and Special Occasions Where Photos Make the Perfect Gift
Why We All Need to Observe Fire Prevention Week
ScanMyPhotos Is Offering an Insane One Cent Photo Scanning Deal, Here's Why
7 Pro Tips on How to Take Sunset Pictures
The Surprise Anniversary Gift that Garnered Happy Tears
While DNA Tests Offer a Peek into Family History, Your Genealogy Efforts are Missing This
#DoSomethingGrand, Scan Your GrandParent's Photos For #GrandparentsDay
4 Tips for Taking Excellent Beach Photos
Why You Need to Digitize Photos and Preserve Them for Future Generations
How to Capture the Big Picture Across America #PictureLocalHistory