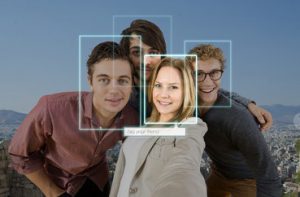 The last estimated count of stored digital photos in existence was 4.9 trillion in 2014. It was also projected that by 2017, this number will jump up to 4.9 trillion1.
So, yes, digital clutter is a very real phenomenon. Since the popularity of digital cameras, and now our phone's ability to take a seemingly endless amount of photos wherever we are, the amount of digital photo clutter is only going to continue to increase.
But with the new release of Apple's iOS 10, organizing digital photos just got a whole lot easier.
Facial recognition technology
Anyone who's updated to the new iOS 10 platform on their iPhone is in for a treat. In addition to a newly designed Music app and Autocorrect's new ability to give contextual predictions, your iPhone is also ready to help you better organize your digital photos.
Using facial recognition technology, the Photos app is now able to auto-group the people in your pictures. So, if you're telling a friend about the time you and your sister got to meet Rachael Ray on a trip back in 2015, simply go to the auto-sorted group of your sister's pictures and find the photo from there. This is much easier than scrolling through photo after photo in chronological order.
How this benefits ScanMyPhotos' customers
For us here at ScanMyPhotos this has been a huge breakthrough. As our customers know, a photo scanning project can take up a lot of time in terms of organizing and sorting. One of the reasons this project takes so much time is we often get caught up in the memories of each picture. If that process were automated, however, it could save hours worth of work.
So, when Apple created the Photos app and started to automate the digital organizing process, it helped our customers out in a big way. And now with the facial recognition and organizing technology, it's only to get easier from here.
What's next?
As the sophistication for facial and even location recognition software continues to advance, we will start to see all of our photos self-organize over the next few years. Not only will our devices get better at recognizing the people and places in our pictures, but the search function will also improve. Someday soon you might be able to search your photos with vague phrases like "open mic night three years ago" and immediately be taken to the very picture you had in mind.
While it's always a good idea to keep an eye on the future, it's equally as important to preserve the past. Send us your print photos today and, from there, let Apple's Photo app do the sorting of the digital copies.
---
1. Mylio.com, One Trillion Photos in 2015, http://mylio.com/true-stories/next/one-trillion-photos-in-2015-2