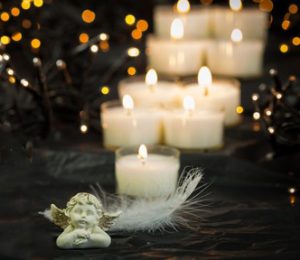 Today, November 2, marks the second day of Día de Los Muertos—the Day of the Dead in Mexican culture. This holiday is used to honor and remember loved ones who have passed through celebration. It's a beautiful, vibrant holiday and one we here at ScanMyPhotos can appreciate.
This time of year, it's important to keep the memories of our lost loved ones alive throughout the holiday season. Whether you celebrate Christmas, Hanukkah, Thanksgiving, Kwanzaa, etc.—the holidays can be rough for those of us who have experienced loss.
Taking a page from Dia de Los Muertos, we put together the following list of ways we can honor and remember our loved ones this holiday season.
Hold a special lighting ceremony
For this you'll need a long-lasting candle—a flameless one with a timer is a great option—and place it in a safe and special area. This could be at a loved one's seat at the dinner table or on a shelf on the mantel. You can hold a special ceremony with family and friends where you light the candle and say a few words as a way of representing that the loved one will be with you.
Prepare a loved one's favorite dish
If your loved one had an absolute favorite meal or was known for a certain recipe, including it in a dinner or even bringing it as a dish to a party is a great way to include their memory in with the festivities.
Make a special ornament or decoration
There are so many ways you can use photos to create decorations or ornaments for the holidays. Pick a seasonal photo of your loved one and use it to create a throw pillow, blanket, ornament, and more.
Donate to a charity in your loved one's name
Or better yet, volunteer your time at a local shelter or organization for the needy and do it in honor of your loved one. Not only will this help you feel connected to your loved one, but it will help others in need as well. You could also make your loved one's favorite dish and give it to someone less fortunate.
Visit a grave site or memorial
This is an obvious one, but it's a good place to share your feelings with your loved one and leave them a gift of remembrance. This could also be a special place they loved to visit—any place that reminds you of them.
Create a memory board or table
This is a special way to get others involved in the memorial. Create a board, table or shelf and adorn it with anything that reminds you of the loved one—pictures, trinkets, candies, etc.—and ask others to bring something to add.
The above are all wonderful suggestions, but you are the one who knows best how to honor your loved one's memory over the holidays. Get creative and be sure to preserve and back up any precious print photos you might use for a memorial.