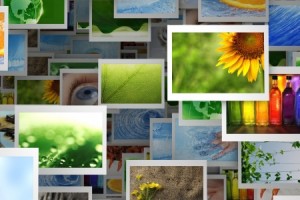 It's no secret that we're BIG fans of Google Photos around here. It's not just us either—anyone currently using the Google Photos app on their smartphone is probably in the same boat. In fact, this incredible app has been able to gain 200 million active monthly users in just one year on the market—and we're not surprised.
What did surprise us, however, was yesterday's big news.
Last week, we would have told you that one of the best functionalities of this app is its ability to organize all of those hundreds of digital photos we take every single day. In light of their recent announcement, we have the following new and exciting improvements to look forward to.
Meet Albums: an organizer's dream come true
Ah, the dreaded digital clutter. Fortunately, Photos' new feature, Albums, is here to clean that clutter right up. After an event, trip, holiday or vacation, the app will auto-create an album for you—one that is made up of all your best shots. Yes, the app will comb through your seemingly endless amounts of photos from an event and pick the best ones to suggest within the new album. It's your own personal digital photo organizer.
If you're wondering how the app knows which photos to pick, the functionality is similar to Google Cloud Vision API. Photos is able to detect elements in your photos it associates with "good" pictures—e.g., smiling faces, open eyes, bright lighting, etc. It's also able to pick out landmarks—like the Eiffel Tower or Big Ben—and will pull those photos out of the bunch to suggest for the album.
Never forget a place or face
Photos also allows users to easily add captions and descriptions to the albums and photos. Plus, this app is the ultimate road trip companion. It'll map out your trip so you can see where and how far you traveled via location pins. And, of course, the collaboration tool lets you share the photos with others so they can fill in the names of people and places you might have forgotten.
It's only been one day since the new and improved Google Photos rolled out and we already can't wait for the next big event so we can get started.
---
ScanMyPhotos top-ranking recent articles:
The Future of Photography: Developing New Trends to Taking and Storing Pictures
How to Take Phenomenal Product Photos
Photo-Sharing Image Recognition Tools Advocacy Campaign #SupportBFR
100 Years of Photos Reveal an Incredible Family History and Journey
Attention Photo Lovers: Google Cloud Vision API Enters Beta Testing
10 Tips to Make #Throwback Thursday a Viral Hit
5 Famous Photographers and What We Can Learn From Their Perspective
How a Downsizing Project Became a Family Bonding Experience
10 Most Popular Travel Destinations According to Your Photo Albums
---