What people are saying about our photo digitization service:
Like at a restaurant, the best way to learn about a company is to read the reviews. We collect thousands of customer reviews and use this as a learning tool. Below are recent comments our raving fans shared from their ScanMyPhotos.com experience. You too can always share your comments with you via email: [email protected] We want to hear and learn from your comments. We listen!
Follow the instructions, or pay to go all out. I paid to go all out, and it was worth it!!!
In the end, I bought "The Works," and I'm really glad I did. The Photo Soap and book of thumbnails make the whole effort so much more useful.

so far, so good. I sent my photos last Thursday, they arrived Friday and SCANMYPHOTOS sent me an email that they were received with an approximate time frame of delivery. The following Thursday I received an email that they were working on them and would send me an email when shipped. The communication is great. Waiting on scans now but I am very confident that they will be great.
There customer service was very helpful.
We were very pleased with the pictures on the DVD when we received them. They did a beautiful job and our photos were returned in perfect condition. Very happy with ScanMyPhotos.
Very happy with the quality and timeliness of the service. I will definitely use this service again. It was much faster than I expected.
It is very easy to reach a real person at ScanMyPhotos. I have always had excellent service, with someone who always answers mu questions efficiently.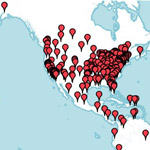 Loved the quality and timeliness. I've used them twice.
Sort by month and year, rubber band with title card in front.
August 12, 2014 Tweet
Don't hesitate to call them if you have questions. They are very helpful.
August 08, 2014 Reply Tweet