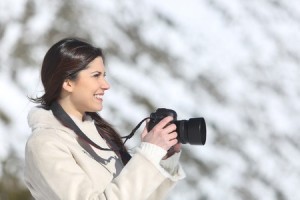 It's February. The days—while slowly getting longer—are still quite short and we're all spending far too much time stuck indoors. For those of us who are counting down the days until the sun is shining high in the sky, there's some hope. According to this Today article, doing things you enjoy can help pass the time in a positive way.
This is where photography comes into play. While many great photographers spend their days outside trying to capture beautiful nature scenes, there is so much more you do while the weather keeps you inside. Here are a few photography ideas to try out that can help you beat the winter blues.
Take photos of your food
Last year, the Instagram account @chefjacqueslamerde emerged. The formerly anonymous account posted photos of exquisitely plated junk food as a way to poke fun at the hipster dining experience that's become so popular recently. The photos on this account garnered over 100,000 followers and started the hunt for the mysterious user. The photographer and chef was recently revealed to be Christine Flynn, the executive chef at I.Q. Food Co., who told the media "I look at this as one of the coolest things I've ever done."
This fun little story just goes to show you how much fun you can have playing with your food—and photographing it! While you're stuck inside cook up some creativity, take some photos, and see where it takes you.
Play with your lighting setup
Lighting is always an issue with photography—there's either too much or not enough. Well, while your warm and cozy inside, now's the time to test and adjust your lighting options to see what works and what doesn't. Some indoor lighting ideas to try out include playing with candlelight in a dark room or using the glare of pure white snow through the windows to see how it affects your shot.
Capture moments and connections
The memories and connections behind our photos is one of the most important parts of photography. That's why we consider learning how to capture the emotions behind a photo a true art.
The key is to recognize or find a moment and then capture the story behind it while it's in progress. Like any aspect of photography this will take a lot of practice—so take your time, go slow, and keep taking photo after photo.
Test out a new style
Every photographer, whether amateur or professional, has their own style. If you're not sure what yours is, try flipping through your phone right now and see the kinds of photos you take. Are they brightly lit? Filled with contrast? Minimalist? Whatever elements you start to see over and over again are what make up your own signature style—and since you already know your own style, it's time to think outside the box!
If you always take photos of the grandkids, try taking close-up photos of items with patterns you find interesting. Or, if all your photos are brightly lit, try taking some snaps of scenes that are obscured with shadows. Along the way you may discover a new perspective.
Beating the winter blues is not easy, but it is doable. Photography is a great hobby to keep you busy, creative, and active even when the weather is keeping you indoors.
---
ScanMyPhotos top-ranking recent articles:
How a Downsizing Project Became a Family Bonding Experience
10 Most Popular Travel Destinations According to Your Photo Albums
8 Seriously Sweet Valentine Day Gifts for Photographers
6 Tips on How to Get Your Family Photos Digitally Organized
Why the Over-35 Crowd Needs to Start Using Snapchat Today
When a Gift Becomes a Touching Memorial to Life and Love
History of Photography, Eastman Kodak's Vaults
8 Must-Read Photography Books to Help Improve Your Skills