JUST ANNOUNCED: No waiting. Why same-day expedited professional photo scanning is here and at no additional charge from ScanMyPhotos.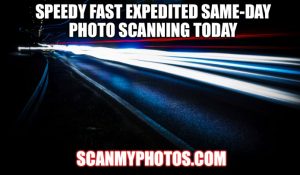 What's new from the world of photo scanning? Now same-day scanning has arrived at ScanMyPhotos, but for a limited time.
● Place your fill-the-box, or pay-per scan photo scanning order today and it will be digitized the same day it is received
● Limit 25,000 photos per order
● MUST TYPE: "Free rush same day photo scanning" under "special instructions" at check out.
Why Same-Day Photo Scanning Has Finally Arrived
As the trend toward buying stuff online has soared, so too does the desire to get things instantly. Why wait a month, two months or more? This is a big pivot as ScanMyPhotos changes the way scanning pictures works. Why take the time with a DIY scanner costing hundreds before a single photograph is digitized?
As many companies now offer the new same-day fulfillment model, it was incumbent on us to lead way within the world of photo scanning. This compelling value proposition represents a major shift to help solve the biggest challenge in photography: how to affordably and quickly digitize your lifetime of pictures.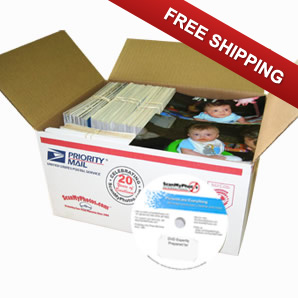 You asked for more convenience and quicker same-day scanning and we listened. Immediately upon receiving your photo order when you type "free rush same day photo scanning" under "special instructions" at checkout, your order is rushed to the front of the line. [Sorry, this only applies to pictures, not 35mm slides, film and other services, or prior orders].
As the pioneer and dominant player in the field of professional photo scanning, we are always listening to you and studying ways to become more efficient and meet your needs. Whether it's for last minute anniversary gifts, family reunions, an unfortunate memorial service or just to finally get your photo preservation project off your to-do list, photo scanning is extra fast.
That is why we are announcing today this expedited and enhanced speedy-fast service. Playing on our strengths, a great deal of work went into our logistics and workflow processes to meet this new demand.