"The most expensive part of any computer is its data—are you backing up?"
The gang here at ScanMyPhotos takes digital storage and backing up best practices very seriously—especially when it comes to the irreplaceable sentimental value of your photos and film. While we have professionally digitized 600 million pictures (this fast), there are still trillions more to preserve and backup.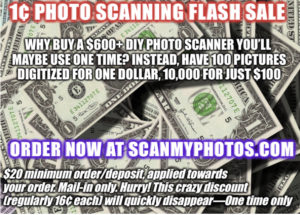 That is why we are excited to see the hashtag #WorldBackupDay (r) trending. Chris Preimesberger features editor at EWeek profiled many smart ways to help back up your files. Excerpt:
Take a few minutes on this day, check and see if all the photos in your smartphone are being backed up to a cloud service such as Google, Dropbox or iCloud. Oh, and back up important docs, too. Many people do not own scanners to store physical images. A good way to scan and store them can be found at ScanMyPhotos.com, which will scan and store online photos, slides, negative and videos and has been doing it since 1990.
I have literally thousands of photos from my pre-digital life. Maybe it's time to look into this. https://t.co/Dm8l4TaVlh

— Lance Ulanoff (@LanceUlanoff) March 27, 2019
If your family photos and home movies are sitting in a closet or on a shelf somewhere, I HIGHLY recommend getting those memories digitized. https://t.co/hc4JJ7kdtv https://t.co/PjDEEfiMGC

— Tony Bradley (@RealTonyBradley) March 27, 2019
So, if you don't want to lose any memories, data, important files and pictures take the #WorldBackupDay pledge and share it with your friends on Facebook and Twitter.
Read More
But let's not stop with just one day either! This day should serve as a ribbon around your finger—a reminder that we should be backing up our precious data on a regular basis throughout the year.
If you're looking for helpful tips on how or why to start backing up your files, these ScanMyPhotos posts can help:
This page is not officially supported or in any way endorsed by World Backup Day. It is provided as an informational comment only. For more information, visit worldbackupday.com.