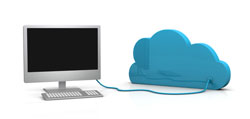 As you know, here at ScanMyPhotos we are experts at carefully scanning your photos, negatives, and slides and preserving decades of family memories in digital format.

But what about all your photos that are already in digital format? What are you doing to save them? If you have hundreds – or even thousands – of digital photos stored on your computer's hard drive, you need to back them up. Saving them on an external hard drive is one option, of course, but what happens if you lose it or it gets damaged somehow?

Backing up your photos to the cloud is the way to go. Here are 5 online backup and storage solutions to check out (all of which feature super tight security to keep your personal information and files safe):
Backblaze

Backblaze is really popular for its ease of use and straightforward pricing plans. For just $5/month, you can back up an unlimited amount of data. The best part, though, is that you don't have to think about it. Any time you are connected to the Internet, Backblaze runs in the background, syncing and saving all new files. Additionally, if your computer is stolen, the locate-my-computer feature can help you find it.


Carbonite

Like Backblaze, Carbonite is easy to use, automatic, and allows you to back up an unlimited amount of data. In addition, it allows you to share and access files remotely with free apps for iOS, Android, and Blackberry. At $59.99/month, the pricing is the same as Backblaze.
Mozy

If you don't have a lot of files to back up or are only interested in backing up your photos, check out Mozy. You can tell it which files or types of files to back up and then tell it when to back up. Their free plan lets you back up 2GB of cloud storage. If you need more, it's $5.99/month. You can add an additional computer for $2/month and buy additional space in 20 GB increments for $2/month.
SOS Online Backup

SOS is the granddaddy of all cloud backup services, so their longevity should tell you something about their reliability. At $59/year, pricing is similar to other services, as are the features (easy, automatic, unlimited amount of data, remote access via apps). One big difference: your files stay in the cloud indefinitely.
SugarSync

SugarSync does more than just online backup (which they do very well). They also sync files across all of your devices – desktop, laptop, tablet, and smartphone – which comes in handy when you're taking photos on your tablet and smartphone. Their plans is slightly more expensive than the others – $74.99/month for up to 60 GB.