May is Older Americans Month, what is it and why you should get involved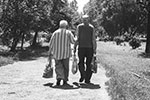 "As human beings, we value the experience that comes with age. We are reminded over and over again with statements like 'older and wiser' and 'respect your elders,' promoting age as something to be cherished and respected." – Jenna Morasca
As we observe "Older Americans Month" this May, we encourage everyone to honor the seniors/elderly in our lives. Older Americans are the closest thing we have to time travel—they are the eyes and ears of our country's past and can help us re-live days long gone. We can also continue to honor them by helping them preserve precious memories and photos. Use social media to hashtag #OlderAmericansMonth, give seniors a hug, and your time. Listen to their life stories and celebrate them. Visit a senior center today.
Read their stories and the power of family photos to nostalgically revisit a family's history.
When it comes to the health risks posed by summer heat, seniors are the most vulnerable — a mere 1 degree Celsius increase in temperature increases death rates in the elderly with a chronic health condition. Details from Alarm.org:
Attribution via https://www.alarms.org
A ScanMyPhotos e-gift certificate will enable the seniors in your life to digitize their analog memories to pass down to future generations. Learn more.
Directory of Resources
Older Americans Month Resources (source)
The following websites offer information and tools to help you blaze trails as you age. Share your stories. In addition to these resources, check out the Eldercare Locator, a public service of the Administration on Aging. It connects older adults, their families, and caregivers to information on local services and support. Topics range from volunteerism and healthy aging to legal assistance and transportation. Visit Eldercare.gov or call 800-677-1116 to learn what is available in your community.
Wellness
Securing Your Finances
Reinvention
Civic Engagement
Wellness
Brain Health
Source: Administration for Community Living
Falls Prevention
Source: National Council on Aging
Go4Life Exercise & Physical Activity Campaign
Source: National Institute on Aging
Healthy Eating As We Age
Source: USDA
Long-term Care Planning
Source: Department of Health and Human Services
Older Adults and Oral Health
Source: National Institute of Dental and Craniofacial Research
Sleep and Aging
Source: National Institutes of Health
Securing Your Finances
Advanced Care Planning Fact Sheets
Source: AoA's Eldercare Locator
Elder Abuse (including Financial Exploitation)
Source: Administration on Aging
Elder Fraud and Financial Exploitation
Source: Federal Financial Fraud Enforcement Task Force
Financial Protection for Older Americans
Source: Consumer Financial Protection Bureau
OnGuard Online
Source: Office of Justice Programs
Protect Your Pocketbook: Tips to Avoid Financial Exploitation (PDF)
Source: AoA's Eldercare Locator
Scammed? Now what … (PDF)
Source: National Council on Elder Abuse
Reinvention
Arts and Aging Toolkit for Organizations
Source: National Guild of Community Schools of the Arts, National Center for Creative Aging, and New Jersey Performing Arts Center
Directory of Creative Aging Programs
Source: National Center for Creative Aging
Participating in Activities You Enjoy—More Than Just Fun and Games
Source: National Institute on Aging
Ready for Your Second Career?
Source: AARP Bulletin
Second Acts for the Greater Good
Source: Encore.org
Senior Community Service Employment Program
Source: Department of Labor
Civic Engagement
Health Benefits of Volunteering (PDF)
Source: Corporation for National and Community Service
Project Toolkits
Source: Corporation for National and Community Service
SeniorCorps
Source: Corporation for National and Community Service
Tips for Boomers Who Want to Volunteer (PDF)
Source: Corporation for National and Community Service
United We Serve
Source: Corporation for National and Community Service
Volunteering and Civic Engagement among Older Adults
Source: Corporation for National and Community Service