Demand "opt-in" approval by users to authorize and access Facebook political ads.
While Facebook will not use its social media platform to protect democracy from misleading political ads, there is something every user can do. Article by BARBARA ORTUTAY AND MAE ANDERSON at AP: Facebook again refuses to ban political ads, even false ones
The business of scanning pictures was indirectly created by Facebook. At ScanMyPhotos.com, about 82% of the 600 million pictures we have digitized find a home on the Facebook platform.
People upload their nostalgic decades-past pictures to share. However, we are using our voice and at great risk to speak out. We have long been among Facebook's lead protagonist. Mostly about what they may be doing with the billions of uploaded pictures each day. Now we are again getting in their face to untangle their failed political ad policy.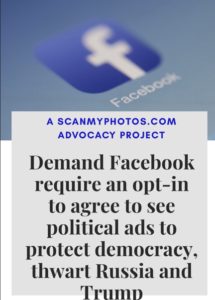 The straightforward antidote is to require that every user at Facebook, Instagram, and all social media sites require users to authorize and "opt-in" to view any political advertisements.
Too often, companies just stay in their lane and do not create advocacy campaigns or challenge the behemoth Facebook.
These are not ordinary times. ScanMyPhotos has a 30-year history of making news, engaging in, and creating important social advocacy efforts.
How Businesses Use Economic Activism and Social Media For Advocacy Projects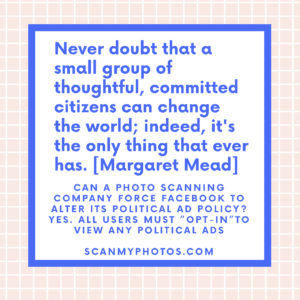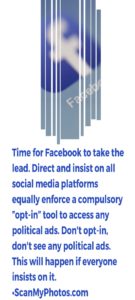 NYT: "Facebook Says It Won't Back Down From Allowing Lies in Political Ads. The company was under intense pressure to adjust its policies. But in this presidential election year, no big changes are planned."
Facebook Didn't Fix It's Data Breaches, So We Are
Why Not Upload Pictures To Facebook
Disclaimer and guidelines provided by Facebook for their regulations on political ads:
About ads about social issues, elections or politics
We're constantly working to increase ad transparency and election integrity on Facebook and Instagram. Therefore, we've established measures to promote authenticity and legitimacy for anyone wishing to run ads about social issues, elections or politics.

Ads about social issues, elections or politics are:

Made by, on behalf of, or about a current or former candidate for public office, a political figure, a political party or advocates for the outcome of an election to public office; or

About any election, referendum, or ballot initiative, including "go out and vote" or election campaigns; or

About social issues in any place where the ad is being placed; or

Regulated as political advertising.

Advertisers interested in placing these ads should complete the ad authorization process. The process is available for advertisers that reside in the targeted country. Documents for authorization must be issued by an advertiser's local country or state and can't be expired. In selected countries, a notarized form is also accepted.

These ads must have a disclaimer with the name and entity that paid for the ads. If an ad runs without a disclaimer, it'll be paused, disapproved and added to the Ad Library, until the advertiser completes the authorization process. Requirements vary by country.

Ads targeting the US that portray voting or census participation as useless or meaningless and/or advise users not to vote or participate in a census aren't allowed.

Ads can be placed in most formats except dynamic ads and boosted continuous live video. Currently, these ads can't run on WhatsApp, Messenger and Audience Network.

All ads will be added to the Ad Library, even if the advertiser who created them hasn't completed the ad authorization process.

Our measures are frequently reviewed and implemented. We suggest that you routinely check here for latest information.
---
While we have scanned six hundred million images, it is news stories like these that made us so popular, but no order is more precious or important than yours. We are here to help. For loads of photo tips, news updates, and crazy-discounted deals, sign up to receive free updates.
---
Follow ScanMyPhotos and the ScanMyPhotos Blog: Tales From the World of Photo Scanning for more profiles.