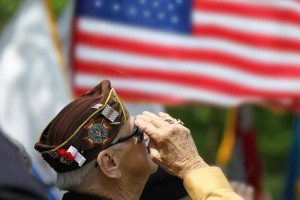 Every hero has their story. Some stories are good, some are bad, others are tragic, but every story needs to be told and heard—especially the stories of our veterans.
For Veterans Day 2015, we found remarkable stories of the brave men and women who served and protected our country. Check out these stories and the vintage photos accompanying them, and remember to thank the veterans who have worked hard to keep our freedom free.
Veterans Day special to Nanticoke woman who served in WWII via @TLnews
A missing military ID becomes a blessing in disguise for Doris Merrill who began her military career serving as a transcriptionist in Cape May. You'll find a beautiful vintage 1945 photo of Doris and her husband within the article.
Dedication of Kameny memorial set for Veterans Day via @washblade
Not only did Frank Kameny fight to protect our country against the Axis power during WWII, Frank also fought for gay rights and pioneered a new period of homosexual rights in the military. This Veterans Day, Frank's gravesite receives a memorial headstone.
Tour gives glimpse of black Civil War veterans' lives via @semissourian
In observation of this Veterans Day, stories of 15 brave African American men who fought during the Civil War were shared during a touching walking tour of the Fairmont Cemetery in Cape Girardeau, MO.
Vintage photos of N.J. veterans via @njdotcom
Photos of Spanish-American war soldiers, 1921 parades, Korean War send offs, and more can be seen in these amazing vintage photos taken by New Jersey residents.
World War II veterans remember: Pilot Neill MacKay flew risky missions to deliver aircraft around the world via @tulsaworld
Imagine flying at night 600 miles out over the Atlantic Ocean, knowing that if your plane goes down there will never be a search and rescue. That was the reality facing veteran pilot Neill MacKay as he took on his dangerous missions during World War II.
Veterans reflect on World War II via @AuburnJournal
The vintage photos of these brave men accompany their article as they recount their versions of fighting in World War II.
Veteran Shares Story of Love & Survival via @wilxTV
World War II vet, Eugene Bleil, has fought the odds many times throughout his remarkable life and proved to everyone that the only person who can determine your fate, is you.
We enjoyed seeing the vintage photos that accompanied the above stories and it served as reminder that we must preserve the legacy of the veterans in their lives. Their treasured pictures are a part of our Nation's history, let's continue to keep them safe.