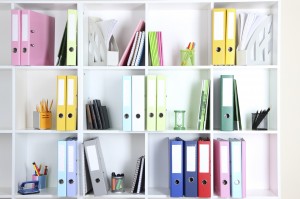 Feeling scattered and stressed? Disorganization can make everything feel out of control and difficult—even if it's as simple as not being able to find your keys first thing in the morning.
Thankfully, the gang here at ScanMyPhotos is dedicated to keeping things organized—it's what we do to help our customers free up space and time, while preserving invaluable memories.
This month we're celebrating January as the National Association of Professional Organizer's official Get Organized month. We've even pulled together some of our favorite tips, tricks, and articles to help make things feel more organized in 2015.
Clear away the clutter
First things first, the piles of papers, stacks of books, empty boxes have got to go. We get it, clutter happens, but being organized helps to ward it off.
Like the old saying, "A place for everything and everything in its place," you can either store clutter away in a newly dedicated spot or get rid of anything that has outlived its purpose.
Get creative
No, you don't need to be handy with power tools or as crafty as Martha Stewart to get creative with organization—but it doesn't hurt to keep an open mind.
If there's anything Pinterest has taught us, it's that a little creativity can go a long way. An old collection of jars can easily become a holder for pens, while a silverware caddy could be transformed into a holder for toothbrushes, tooth paste and floss. The key is to take inventory of what you already have in your home to see if it can be up-cycled or enhanced.
Hire a professional
Getting organized takes time, perseverance, and the right set of tools. If you're lacking any one of those three things, you may want to call in a seasoned pro.
A professional organizer or organization service can help you by:
Doing the actual organization for you
Guiding you through the organizational process
Either of these methods will help to ensure your organizational efforts are a success.
Want more organization goodness?
We've published a few articles over the years addressing key issues around organization. Here's some of our favorites:
10 Tips From the Neat Freak on How to Organize and Store Your Print and Digital Photos
For additional tips and inspiration, jump on Twitter, Facebook, Instagram or Pinterest and follow the #GetOrganized hashtag—and be sure to share your organization stories with the world!