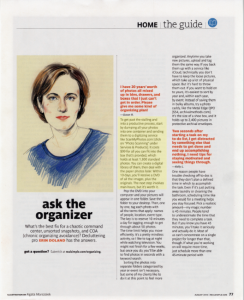 All of us here at ScanMyPhotos are tickled pink that Real Simple has extolled the benefits of using our photo scanning service in their fresh-on-the-newsstands August issue. Turn to page 77, and there we are!
Ask the Organizer columnist Erin Doland, who answers your top decluttering questions, enthusiastically recommended ScanMyPhotos to Susan R., who wrote in desperate for a photo organization solution:
I have 20 years' worth of photos all mixed up in bins, drawers, and boxes that I just can't get in order. Please give me some kind of organizing plan!
Sound familiar? It does to us!
Erin also offered some great advice on how to keep newly scanned and newly taken photos organized and easily findable: Tag them with names of people, location, and event type. You can still organize photos into separate folders by year or event if you'd like, but as Erin points out, you don't have to once they are all tagged. Just spend 10 minutes a day doing this, and eventually, everything will be tagged and searchable. Love this idea!