Since our blog post regarding removing photos stuck on glass, we have received many requests to post some tips to remove photos stuck in photo albums. This is another hot topic in the world of photo scanning and while every method comes with risks, these tips sent in by others are the most frequent "success stories" that we received.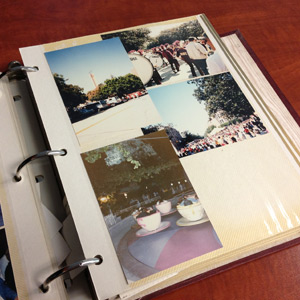 First, a little back story on those horrible magnetic albums and why they are evil. These older magnetic photo albums had pages covered in strips of tacky glue that would hold the photo and then were sealed under a clear plastic sheet. The glue, as it turns out, was highly acidic which had a two-fold effect.
Over time, the glue ate away at your photos, slowly destroying them as they sat on the shelf. Secondly, the glue, as it dried over the years, became extremely aggressive in maintaining the bond between the paper of the album and the photo which makes it really difficult to remove. Between the glue and the chemicals in the clear plastic sheet, it means certain doom for your photos sooner or later. It seems these albums were developed with only the short-term lifespan of photos in mind and I doubt there was much "stress-testing" on what would happen if the photos were left in the album for years.