Question: How to Memorialize Ten Years Since The New York Times' Profile Putting Photo Scanning on the Map? Answer: Give You a 50%* Discount to Inspire You to Safeguard Your Lifetime of Pictures
Save 50%* To Professionally Digitize Your Lifetime Of Pictures Due To The New York Times' Photo Scanning Review

Why ScanMyPhotos.com designed this unique discount* to scan your pictures: Ten years ago David Pogue wrote "Your Photos, Off the Shelf at Last" in The New York Times (August 14, 2008) and helped put the world of bulk photo scanning on the map.
While commemorating the tenth anniversary is traditionally celebrated with gifts of tin or aluminum, we are breaking with tradition. A metal alloy just doesn't make sense for what happened on August 14, 2008, when the nation's most admired tech columnist, David Pogue put us on the map.
Back then, the personal-technology columnist profiled ScanMyPhotos.com for his popular New York Times "State of the Art" column to identify the urgency to digitize pictures. Subsequently, it led to last month's milestone as we digitizing our 600 millionth picture.
Background on David Pogue: the same year (1985) our CEO, Mitch Goldstone graduated from the University of Southern California's School of Business and Entrepreneurship Program, Mr. Pogue graduated summa cum laude from Yale, with distinction in Music. His next ten years conducting and arranging Broadway musicals lead to winning four Emmy awards, two Webby awards, a Loeb award for journalism, and an honorary doctorate in music. His resume is legendary. This 2015 example of his songwriting, singing and dancing in "CES The Musical," is among our favorites.
Beyond his role as tech critic for Yahoo Finance, you can read David's monthly columns in Scientific American and watch his science shows on PBS's "NOVA." He's been a correspondent for "CBS Sunday Morning" since 2002. And, spoiler alert, he is also the brains behind the Techno Claus beard. As a best selling author, we would need a supercomputer to tally all the tech tomes he's written which are available at Amazon of which he's sold more than 3 million copies.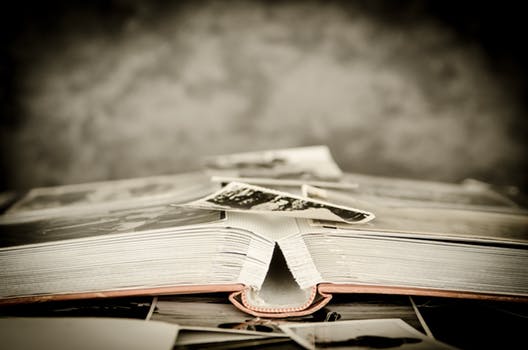 Much has changed since that article. Last year, one billion pictures were destroyed by flooding in Texas. The advent of photo-sharing and storage apps created a safe home to preserve those pictures. The smartphone happened, yet missing were all those photo albums and shoeboxes of analog pictures not yet digitized. There are still about 3 1/2 trillion analog snapshots to digitize.
Better than cake, to help celebrate this ten-year anniversary, ScanMyPhotos.com created this unique discount towards our most popular photo scanning service.
To instantly save 50% on fill-the-box photo scanning, with free 3-way delivery and same day scanning, enter "POGUE10" as the promo code at checkout. Under "special instructions" at checkout, type "free same day scanning," and your order will be digitized and prepared for return the same day it is received. Just spend over $199 to activate the discount (example, your final cost is just $99.50)
Many popular add-on featured services are also available at our regular, already low prices to enhance your experience.
Details and to order…