How to Host a Successful and Safe Family Gathering Begins with Gathering Everyone's Decades-past Pictures to Share at the Reunion
OK. The date and location have been chosen, you have lots of volunteers for various committees, and the save-the-date cards have gone out. Before you work on the invitations, start planning for the 5 elements below that will help make your family reunion successful: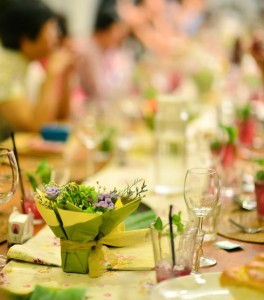 Food
Like any large event with high expectations (weddings, Thanksgiving, July 4th picnic), the food can make or break your family reunion. Find out what allergies and dietary restrictions need to be accommodated before you start planning the menu with your committee (if it's potluck), the caterer (if it's not) or the restaurant or resort that is hosting your family.
Favors
You don't have to design, order, and hand out matching t-shirts to everyone who attends, but it is a nice idea to create a favor that is tied into the reunion. A softcover book that contains the family tree, a photo of families from each branch, and their mailing address and phone numbers would be nice. You could also create a photo book using archived family photos.
Family story presentations
Invite particularly good storytellers in your family to share their stories (or those of parents or grandparents) during an "official" part of the reunion. If this is a large family reunion, it will help the various branches get to know each other better. If it's a small reunion, it will simply be a lot of fun to hear new or "untold" stories. Digitize all the guest's pictures to show during the event.
ACTIVITIES
No matter how long your reunion is or where you're meeting, plan activities that everyone can participate in. If this is the first time the extended family will be meeting, it's probably a good idea to plan an ice-breaker during the first evening's cocktail party.
If your family is gathering in a specific city or town, highlight a local map with parks, walking trails, coffee shops, and other points of interest. This will come in useful during downtime, for early risers, and for anyone who is from out of town.
Professional photographer
Everyone will be so busy during the reunion, it will be hard to capture all the big and small moments that make up the event. Hire a local photographer who has experience shooting large gatherings, especially weddings. Everyone will love viewing the photos online post-event.
From The Photo Detective Podcast
BONUS: In the invitation, ask everyone to get their childhood, family vacation and other nostalgic photos digitized and then create a presentation on a TV during the gathering. Ask everyone to select their favorite songs so it's engaging and gets everyone involved. Add the songs to your family movie. Even create a brief trailer to send out prior to the reunion to get everyone excited and begin the reminiscing.