This curated list of tips and tricks to make CES 2024 more rewarding has been forged from attending CES since 1990.
Hey there, future CES rockstars! I've compiled many time-saving and money-saving tips for CES 2024 attendees and how to score media coverage for your company's innovations. We've cracked the code to make CES 2024 your most epic adventure yet. I'm spilling the beans on my favorite tips and tricks I've gathered over the years, having partied with tech gurus since the '90s.
CES is a global consumer electronics and technology tradeshow in Las Vegas, Nevada, from Jan 9-12, 2024. It is attended by hundreds of thousands of tech innovators and an ocean-sized list of media influencers.
The "bank vault" at CES. A who's who of worldwide tech titans to party-crashers with a social media following of one are scurrying through the cavernous CES media room in Las Vegas.
<< Top Reasons to Attend CES 2024 >>
Having attended all prior Consumer Electronics Shows since 1990, the ScanMyPhotos executive team has dozens of additional tested recommendations that worked for us. However, those are secret to keep us light years ahead of others attempting to score media coverage. Hey, we need to keep some cards face down.
Craft Your Killer Story: Picture this: You've got 30 seconds to grab attention. Make it count! Your elevator pitch should be as polished as a gemstone, with a storyline so compelling it could rival a blockbuster movie. Need inspiration? Check out how ScanMyPhotos nailed it and scored a HuffPost feature.
Know Your Targets: Reporters at CES are like undercover agents. So, download their headshots, treat them like baseball cards, and study up! No more hiding behind name badges or sneaky pseudonyms.
Hunt Like a Pro: This is your safari, and media attention is the big game—eyes forward, not on your phone, as you navigate the CES jungle. Spot a reporter? Initiate a friendly chat, not a sales pitch. Go for the connection, not the hard sell.
Stealth Mode on Socials: Mum's the word! Don't spill the beans on your newfound media contacts. Remember, nearly every tech journalist is at CES, and you don't want to alert your competitors.
Background Check Ready: OMG, be prepared! Have a killer "News Peg" ready that screams timely and sizzling appeal. Reporters move at lightning speed, and you want to be the lightning bolt they catch. Think fast and pitch faster!
Bagging Celebrities: Meeting a celeb at CES is like bagging the biggest prize. Think Shaq and Mark Cuban. Be quick, be sizzling, and, most importantly, be ready to digitize their decades-old pictures. Celebrity photo scanning, anyone?
Comfort First: Trust me, wear comfy shoes. CES is a marathon, not a sprint. Network from dawn till dusk, be bold, and inquire about everyone's secret sauce for successful marketing and media pitches.
Beat-Specific Connections: Connect only with reporters who groove to your beat. There's no use jiving with someone who doesn't vibe with your industry or product.
Booths as Traps: Use other companies' booth captivity to your advantage. While they're stuck, you stroll, gain visibility, and never rest. Stand near sponsored events to spot media guests in the wild.
Smile and Dine: Want 15 minutes of FaceTime? Buy drinks! Surprise influential media contacts with meals at top-notch places. No food court invites—reserve a table at Joël Robuchon and make an impression they won't forget.

But wait, there's more! Here are 14 travel and prep hacks for #CES2024:
Travel light
Bring USB battery packs
Grab a Purchase Dot for instant contact sharing
Give yourself extra time
Pack comfy shoes
Register early
Plan ahead
Arrive well-rested
Network like a champ
Be aware of bag restrictions
Pick up your badge off-site
Allow extra time for everything
Surf for discounts
Download the CES 2024 app.
Ready to rock CES 2024? 🚀💥
10 Tips To Score Media Attention At CES 2024
Get CES Ready! Most leading tech news sites host broadcast (online) pavilions and has comfy seats to attract an audience. Camp out at the media studios, as you are inches away from your favorite journalists to pitch away. Ensure you are polished—your 'elevator pitch' must be formatted like a finely tuned 280-character Tweet.
1. Have a compelling story. You have less than the standard 30-second 'elevator pitch' time to grab attention. Two sentences max to attract interest. Have your story ten times better and create urgency. Business is all about solving problems. Here is a sample of our problem-solving technique: ScanMyPhotos.com solved the biggest problem in photography by pioneering an easy and affordable — with game-changing crazy low prices — to scan pictures. ScanMyPhotos preserved one billion pictures. Where are your family photos? People share these decades of nostalgic memories on all the photo-sharing apps and new photo gadgets introduced at CES. This is how we scored this HuffPost feature at CES.
2. Download and memorize every tech reporter's and blogger's headshots. Print up like baseball cards and study their backgrounds. Reporters at CES hide their name badges or use others so they aren't recognized.
3. Focus. This is like a safari hunt to locate and capture media attention. Don't look down at your mobile phone when walking; look forward at everyone you pass for the media in the crowd.
4. Position yourself. Stand near media events and news conferences and chat with reporters as they enter and leave. Start with a friendly intro vs. a heavy pitch.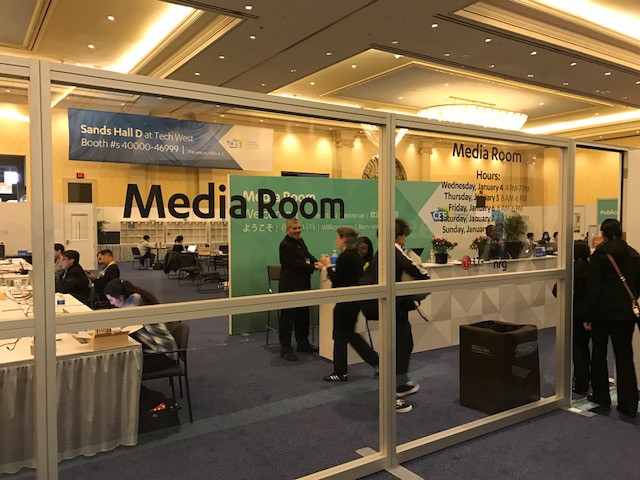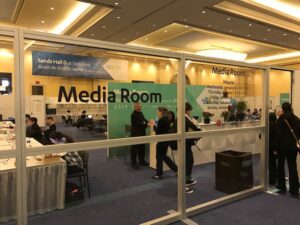 5. Be visible but silent. Don't use social media to alert competitors to the media contacts you meet. Nearly every tech journalist attends CES each January in Las Vegas.
6. Be ready with background information. Have an OMG "News Peg" ready. Explain why it is news, timely, and has a sizzling appeal. Be relevant and honest. Your detailed pitch and links should be available on your phone in notes to immediately send to those you meet. Today, reporters are on lightning-fast deadlines and can file stories and publish live on the spot. That's how I scored this HuffPost CES story.
Visit your vendor's tradeshow booths. Say hello. Meet new people. Immediately, Tweet (X) them with a photo of their booth to thank them for helping your business grow. We met the public affairs executives from the U.S. Postal Service at CES from Washington D.C. and explained how they built our business, which turned into this commercial.
After meeting with the entire U.S. Postal Service team at their CES booth, we scored this USPS commercial. We explained why consumers trust them with delivering their most precious possessions–their lifetime of irreplaceable photographs and other media to scan.
Walking the cavernous Las Vegas Convention Center and other CES venues is like a safari–on the hunt to meet celebrities and influencers. At the Samsung pavilion, I met Shaquille O'Neal, then Mark Cuban at Eureka Park, the buzzworthy, startup-centric exhibiting area at the Sands Convention Center. When you spot a celebrity, you have a second to win them over. Save the accolades and go for the sizzle. I told Shaq and Mark that our celebrity photo scanning specialty department could digitize their decades-past pictures, as their photo privacy is our specialty. Example of scanning Katy Perry's pictures via Forbes.
Bagging the biggest prize. Meeting (stalking) Mark Cuban at Eureka Park at CES. First, I handed him a business card. Mistake. Lose a point. Mark looked at me and exclaimed, "I don't do cards." OK, now I had a few more seconds, and as with Shaq, I explained that all his family photos must be digitized, why, and how.
7. Wear comfortable shoes. Start early, stay late, and network. Be bold. Ask everyone you meet about their best, most successful marketing and media pitch and who profiled them.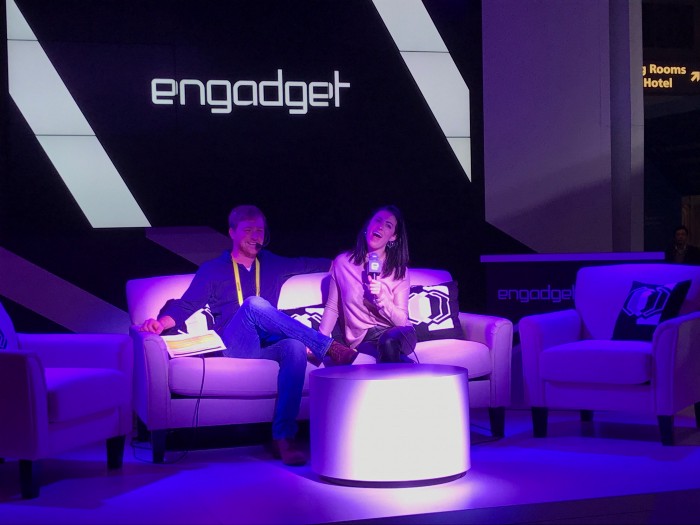 8. Only connect with reporters who cover your beat. Many at CES don't write about your specific industry or product.
From CEOs to CNET talent, the most extensive vault of media prospects is at the LVCC South Hall entrance on the second floor. They even have charging cords for every device to get you to sit in the audience. Tip: sit in the front row, stay focused on the reporter's interview — not your phone — then pounce as soon as the segment is over.
9. Take advantage of other companies held captive in the booths. Most attendees are stuck at their booths, immobile all day. Use that to your advantage to walk the show and gain valuable visibility. Never rest. Stand near company-sponsored events to track down media guests.
10. Smile and buy drinks. Use this strategy to score 15 minutes of Face time and fame all day and night. When you encounter influential media contacts online or eating, surprise them by buying their food and have the server hand them your card; write a brief " your lunch was on me" message on the back.
Don't invite the media you meet to a food court, coffee, Sparro's, or Nathan's. Do it right to make an impression. Reserve a table at MGM Grand's Joël Robuchon NOW. This dinner takes three hours as your guests dine and enjoy an unforgettable experience at the 3-Star Michelin Guide-winning restaurant in Las Vegas. Also, stay at Skyloft Suites at MGM Grand. Camp out in their private lobby area near the main entrance front desk. Sometimes, I'm there for hours. To meet the A-list players, you have to up your game. Granted, the media won't be there, but their bosses often are.
I'm sure you're as excited as I am about CES coming up! But there are a few things you should know before attending.
14 Travel and Preparation Hacks for #CES2024
Travel Light – Don't bring extra baggage to this event. Bring USB Battery Packs – Don't be caught with a dead phone. Stay charged all day.
Purchase Dot, is a small tag that holds all your contact information and social links, held in your dot profile. Ditch old-fashioned business cards to get your contact info instantly transferred to a new networking partner's smartphone.
Give yourself Extra Time – Get a map and use the CES scheduling app.
Pack Comfy Shoes – Take care of your feet.
Register early for CES 2024.
Have a plan before arriving at CES. Search for restaurants and events now.
Arrive Well Rested.
Network. Talk to everyone. Ask everyone you see what their best find was, what innovations they saw, and who they met.

Pick up your badge off-site

at hotels or as you arrive at Harry Reid International Airport.
Allow extra time for everything.
Ride the Monorail, or take advantage of complimentary shuttle bus transportation as a clever way to sit next to a new networking partner. If you must take a taxi, ask people in line if they are going to your destination. Offer to pay, and you now have a half-hour ride as you network and meet someone new.
If there is one thing you're most looking forward to at CES, what would it be? Share your favorite hacking tips with Mitch Goldstone, president & CEO, ScanMyPhotos.com—email.
Have fun and make news!
Check out these related CES stories from ScanMyPhotos:
4 reasons why archivists and family historians are celebrating Spielberg's new film.
Digital Trends: From 200,000 CES Attendees to JUST One
A Simple Method For Getting Those Old Photographs Digitized And Online [SOURCE: HuffPost @ CES]
Ivanka Trump Speaking at CES? Not So Fast
With No Women Keynote Speakers, Does CES Have a Diversity Problem?