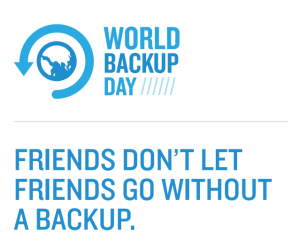 "The most expensive part of any computer is its data—are you backing up?"
FOR WORLD BACKUP DAY, SCANMYPHOTOS IS PROVIDING 50% OFF PHOTO SCANNING. Click for details and promo code.
The image and quote featured front and center in the recent TechRepublic article, World Backup Day: Best practices to backup your data, sends a message that shouldn't be taken lightly. As you know, the gang here at ScanMyPhotos takes digital storage and backing up best practices very seriously—especially when it comes to the irreplaceable sentimental value of our photos and film.
That's why we were very excited to see the hashtag #WorldBackupDay trending today.
The official #WorldBackupDay website clearly (and cleverly) explains the premise for the observance by stating, "Don't be an April Fool. Be prepared. Back up your files on March 31st." This makes for an easy day for us to remember each year.
So, if you don't want to lose any memories, data, important files, etc., take the #WorldBackupDay pledge and share it with your friends on Facebook and Twitter.
But let's not stop with just one day either! This day should serve as a ribbon around your finger—a reminder that we should be backing up our precious data on a regular basis throughout the year.
If you're looking for helpful tips on how or why to start backing up your files, these ScanMyPhotos posts can help:
Google's Dr. Vinton Cerf Warns of "Information Black Hole"