Welcome, ScanMyPhotos designed this 50% discount for bulk photo scanning with you in mind.
50% off photo scanning with free delivery.* Use promo code: "50OffScan" at checkout.
[NEWS PROFILES] Fortune, The Mercury News, AND Forbes Magazine are raving on ScanMyPhotos. The Associated Press mentioned our photo scanning service as a project to keep you busy while at home. For loads of other news and review profiles, click here. Next Avenue published another article mentioning.
50% Off + FREE Shipping* Today. ORDER HERE.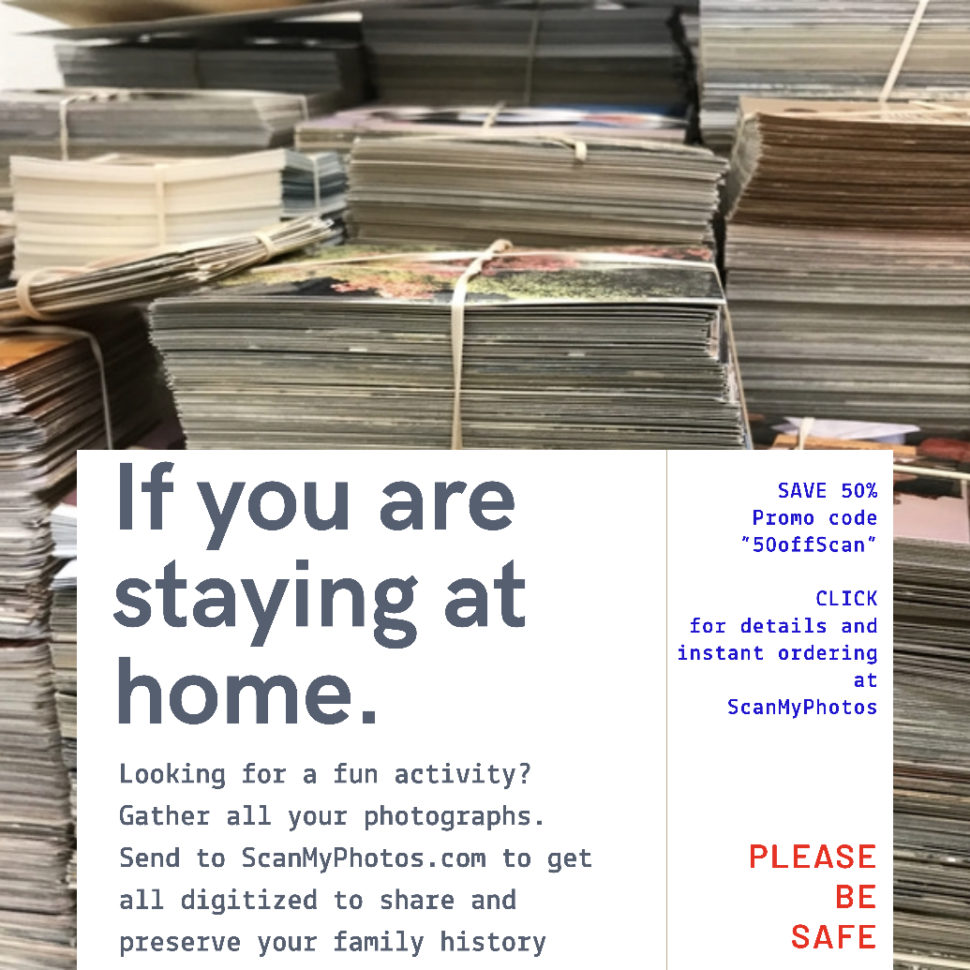 CLICK HERE to save 50% on our most popular fill-the-box photo scanning service (excluding any other scanning services, including the "Family Generation Collection," eGift Certificates and "VIP Photo Scanning Package"). Mail in only. No walk-ins.
Sorry, the discount cannot be applied to prior orders. Applicable sales tax applies. 50% off includes professional high resolution 600 dpi scanning, add-on extras, and free S/H*. This includes returning your digital media. *If you want your photos returned, add $19.95 per box or $14.95 to have them disposed of.
Limit 8 boxes. How to prepare your photos. Ends soon. Full details are posted on the order page. USE PROMO CODE: "50OffScan" at checkout.
---
---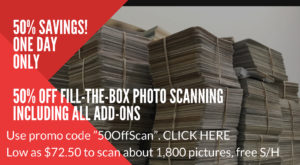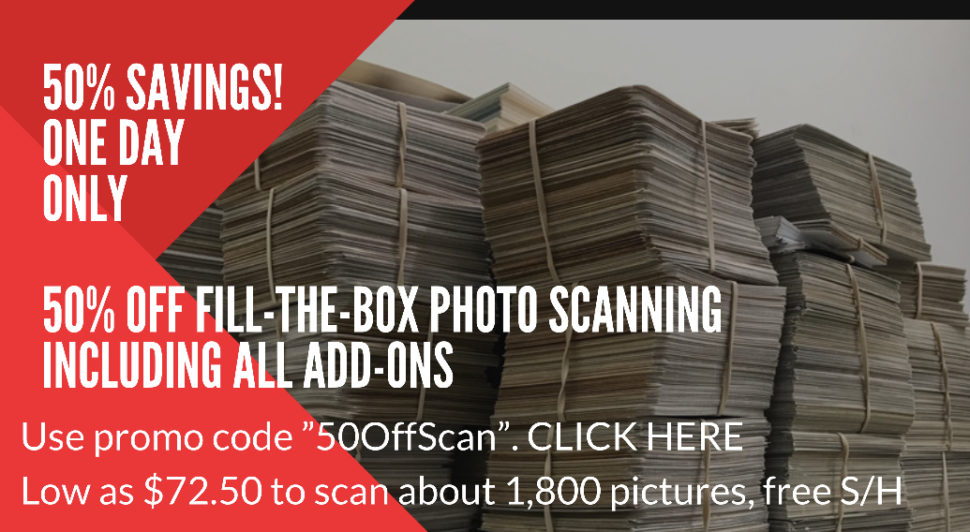 Order now. No rush. You have nine months [due to the Covid-19 emergency we extended this from six months] to return your pictures for scanning. Click for how to prepare your photos for scanning.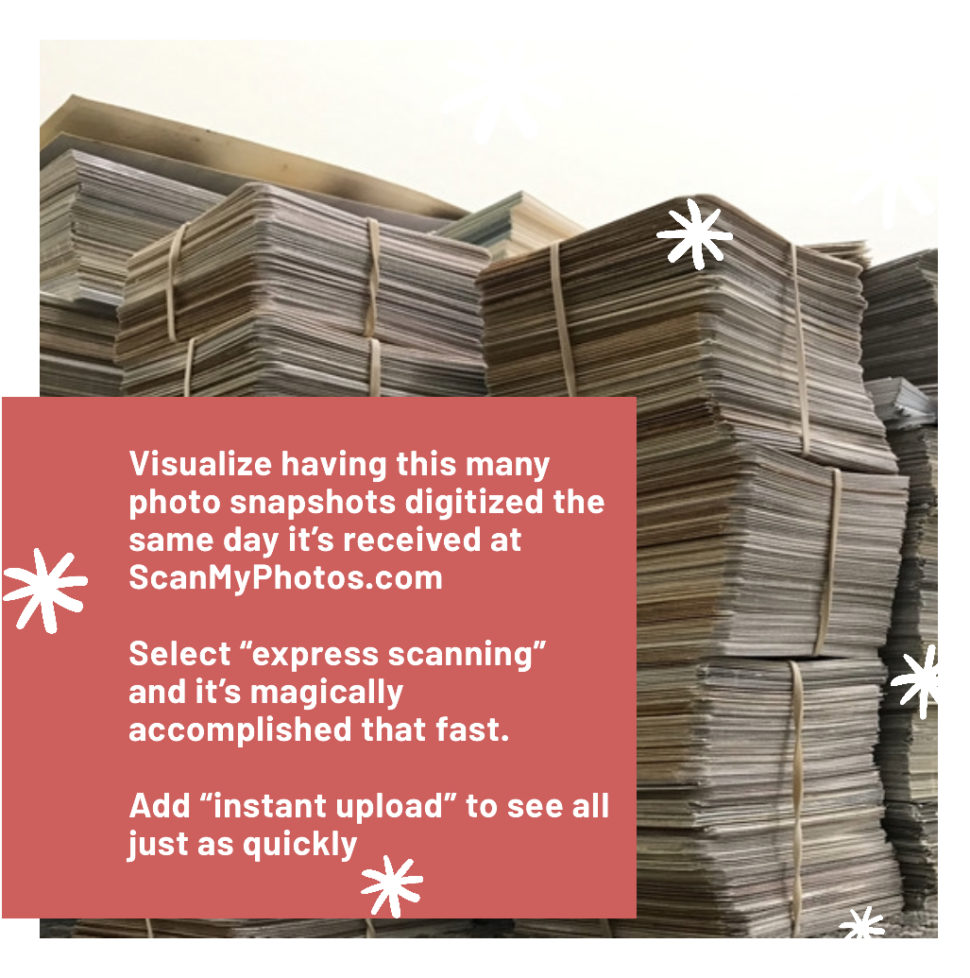 ---
Save 50% and get all your pictures digitized. Includes free S/H, save 50% on all add-on's from 72 standard resolution – 600 dpi professional scanning, instant uploading, extra 8 GB custom flash drives, scan in order, concierge services, photo index albums, same-day scanning and more…
---
Memories in a shoebox: Digitizing old photos unlocks a flood of mixed emotions — CNET
We recommend selecting from this menu of other popular add-ons and you also save 50%: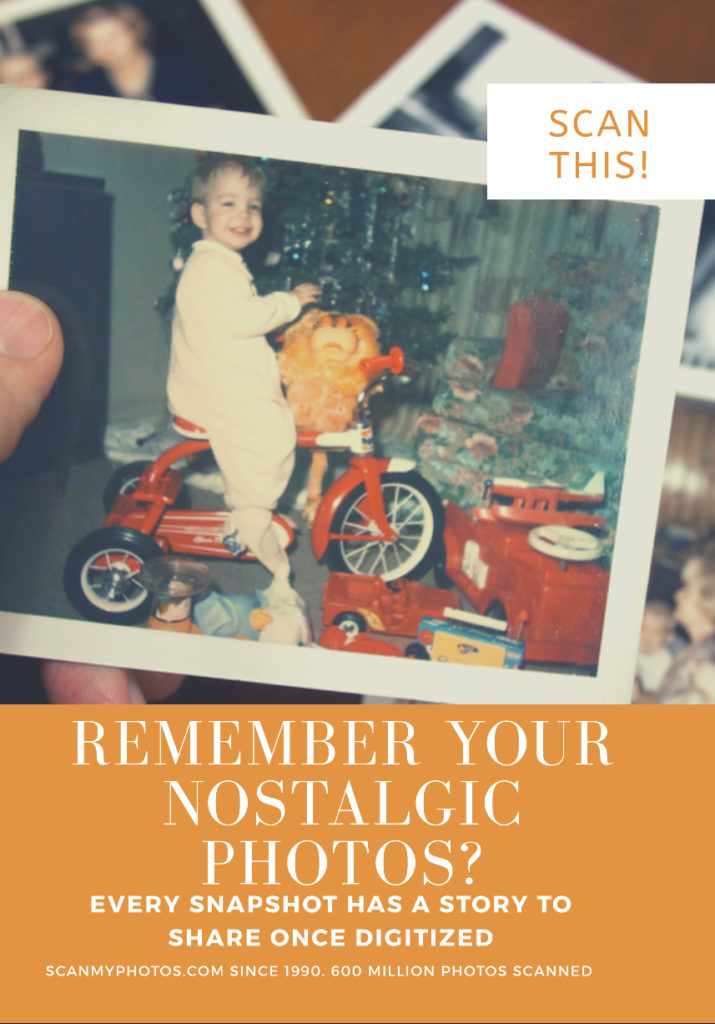 Continue reading →