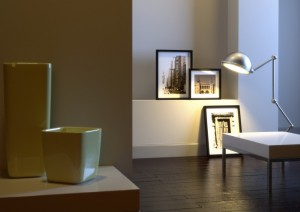 Who doesn't love to be surrounded by happy memories? Just look on any college dorm or living room walls and you'll find happy smiling faces or photos of unforgettable places. Each time we see one of these pictures, we're instantly reminded of the good times. It's no wonder we like to decorate our homes with photos!
Of course, the traditional way to decorating your home with photos is to stick pictures on a fridge or hang them up in frames on the wall. While we love both of these tried-and-true methods, there are other options out there, too! The internet has made it so there is an array of unique products and ways to decorate your home with photos.
Canvas print via @Shutterfly
While the days of oil-paint portraits are long gone, you can still have your memoires displayed on canvas. These canvas prints are a really classic way to turn your memories into pieces of art.
Cutouts – great for ornaments!
These cutouts are very cute and fun. You can take your memories and turn them into stand alone pieces to place on your desk or hang from a Christmas tree.
Why not add your photos to a backsplash or as an accent to a tiled wall? There are a lot of possibilities when you have your photos turned into ceramic tiles—especially if you're a professional photographer.
Wallpaper via @rebelwalls
If you're looking for a bigger representation of your photos, then have them transformed into wallpaper! Rebel Walls offers some amazing options for taking your pictures and using them to transform an entire room into a conversation piece.
Pillows via @Shutterfly
Cuddle up with your memories by making them into pillows. Simply send Shutterfly the digital photo of your choice and you can have the image uploaded onto an accent pillow.
Lamps via @lampsplus
Using your photos as the basis for a nice new lampshade will help keep your memories bright. These lampshades look lovely in tucked away corners that could use some cheering up—especially if you're using a scanned in vintage photo.
Window curtains via @visionbedding
Yes, you can have your photography screened onto curtains for your windows! These curtains will give your room a unique look that's all your own.
If you're looking for additional inspiration, then these two articles may help you spark some more creativity:
Don't forget to first scan in your photos so you can use them for any of the above products or services. As always, we're here to help.