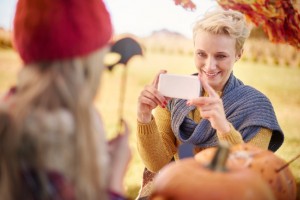 It's that time of year again—leaves are on the ground and pumpkin-spice is in the, well, everything. You may be feeling prepared for the big day—costumes purchased, scary decorations up, extra-large bag of candy sitting at home—but if you really want to put your best ruby slipper forward this Halloween, there is one more thing you should be thinking about: Your makeup.
Halloween photos are some of the most treasured memories at any age—there is so much joy to be had in the fantastical costumes and good times spent with family and friends. But so often these pictures turn out to be more "tricky" than "treat." No one wants to remember shiny foreheads or washed out faces—all of which can be avoided by following these professional Halloween makeup tips!
Don't skip the primer
Whether you are going as Kim Kardashian or Flesh Eating Zombie #3, using primer will even out your skin's texture and tone, providing a strong base for your glamorous or ghoulish look.
Matte is where it's at
Want to avoid shine and glare in your photos? Use a matte foundation and matte eye shadows to achieve your look. Sparkly pigments and glossy finishes may look great in person, but if you want your Facebook friends to be just as impressed, matte will garner you more likes in the digital realm.
Apply makeup au natural
Applying makeup in artificial light can lead to over-application—natural light will give you the best accuracy. If you can get your look applied before the sun goes down, your photos will be over the moon.
It's all in the eyes
Use deep, rich colors for your eye shadows—pastels will wash you out, especially when using a flash. For eyeliner and mascara, go with black, not brown; the contrast will really make your photos pop.
One zombie, coming right up!
This basic zombie look is great for kids and adults alike—use the following tips to achieve a picture-perfect facade:
Start with primer and a pale matte foundation
Using a light concealer, apply around the mouth and on the lips, to get that washed out, "undead" look
Using a dark shade of matte shadow, fill in around all around the eyes, and dust a small amount on cheekbones
Use a black eyeliner pencil to draw stitches around the mouth, and to add any scars elsewhere on the face
Have treasured Halloween photos from years past? ScanMyPhotos can help you convert those memories from shoebox at the top of your closet to a click away on your computer. Get your photos ready for a spooky throwback Thursday post by scanning your photos today.