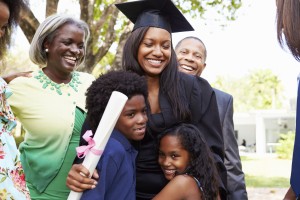 Even though it's been six months since the holiday season, we're once again in the middle of another big gift-giving month. June brings with it many happy occasions to celebrate with a gift—whether it's for Father's Day, showers, weddings or graduations.
Last week, we shared some great gift ideas to give any photography-loving dad in your life, but this week is all about the graduates!
Here are some of our favorite graduation photo gift ideas to help the special graduate in your life treasure all their happy memories.
Photo book
Make a photo book of pictures from your grad's time spent at school. Not sure which photo book services to use? Check out our article, 5 Photo Book Sites for Illustrating Your Memories.
Make a digital yearbook
For those proud moms and dads who have a ton of print photos of their grad, now's the time to scan them all in and give them as a special graduation present. Grads can take the digital copies of their life-long school memories with them to all the places they will go.
Photo Blanket
Let those memories keep your grad warm! Upload their scanned photo and have it printed out on a lightweight fleece blanket.
Picture Mug
Recent college grads need to have a mug to take with them into the workplace. With a custom picture mug, they can look back on the good times all day long.
Desk Calendar
Here's a neat idea for those graduating from high school: take your grad's class photos, from first to twelfth grade, and feature them as each month of the year on this photo calendar.
Photo Tote
Whether they'll need it to carry groceries into their new dorm room or need something to carry their work lunch, a tote is always a great gift for recent grads. Style the outside of their custom tote with photos of school friends they'll never forget.
Canvas painting
Take that cap and gown photo and turn it into a custom-made, canvas oil painting. This one-of-a-kind photo is a great way to honor the accomplishment of graduating.