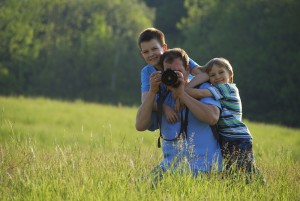 Father's day is coming up in just a few weeks—are you racking your brain trying to figure out what to get dad for the big day?
Well, don't sweat it, you have plenty of time! To help you get some great Father's Day gift ideas for photography-loving dads, we pulled together some options for you to consider.
Online Photography Course
Is your dad constantly showing you the photos he took with his phone? Has he been bragging about all the cool new filters he's used to take artistic shots? If so, why not enroll him in some online photography courses? A subscription to Lynda.com will give your dad access to over 525 photography courses.
Tripods
Depending on dad's needs, there are a number of cool tripods you could get him for Father's Day.
Flexible tripod: If dad is the adventuring sort of photographer, who is always looking to capture just the right angle, then this is the tripod for him.
Carbon tripod: If durability is an issue, this tripod has you covered.
iPhone and Android tripod: These snazzy little tripods will snap onto a smartphone for a steady shoot.
Camera phone lens
When your dad loves taking photos with his phone's camera, but refuses to buy a dSLR, then a camera phone lens will add a whole new level to his phone photography game.
Camera lens coffee mug
This unique mug looks like the real deal. Dads everywhere will love confusing their friends when the take a sip of coffee from their lens.
Camera bag
We love this Brookstone camera bag because of its Indian Jones vibe. What dad wouldn't want to feel like Harrison Ford on a photo shoot?
Custom camera strap
Don't stop with the camera bag! Get dad a custom leather camera strap to match.
External hard drive
All those photos of the kids and grandkids may be mucking up dad's computer. An external hard drive will help him clear out some space and back up the precious images he wants to keep forever.
GoPro
Ready to watch a day in the life of your old man? Get him a GoPro so he can capture his day-to-day adventures.
Adobe Creative Cloud subscription
For those who already have all the camera equipment they need, a subscription to the Adobe Creative Cloud Suite will come in handy. You can get dad a standalone subscription to Lightbox of PhotoShop or get him the whole shebang.
Quadcopter with a camera
What do you get for the dad that has everything? How about a flying camera where he can take aerial shots from any angle?
And, of course, our ScanMyPhotos eGift Certificates are a great option for those dads who want to preserve their precious memories or re-live the best moments of the past.