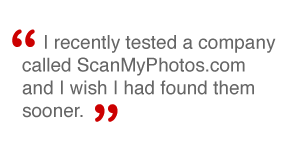 As it turns out, reporters are regular people, just like you. They too are in search of a high quality, low cost way to scan their photos and slides to a digital format. Recently, Gregg Ellman, a syndicated tech columnist, gave ScanMyPhotos.com a try.

As Mr. Ellman noted, "I recently tested a company called ScanMyPhotos.com and I wish I had found them sooner" and gave warning to those that are planning on digitizing their photos that they will be spending a lot of time in front of the computer, going through all of those newly digitized images. It's a modern day walk through memory lane.

Also in the article, he discusses the new Western Digital "My Passport Ultra" portable hard drives with lightning quick USB 3.0 technology. What a great way to back up those photos you had scanned by ScanMyPhotos.com.








You can check out the full published article from the Miami Herald.