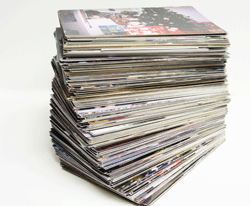 [update June 7, 2019]
Cheryl Strayed and Steve Almond wrote this in the New York Times Style Section about: "I've Shed the Emotional Baggage of Divorce. But What About All This Stuff? When a bonfire is not an option." Read more.
For us at ScanMyPhotos, the business of supporting people during a divorce is emotional, highly delicate and sensitive. When it comes to who keeps the family pictures, we share how you can observe civility and evenly share those memories from happier times?
The only thing inexpensive and amiable about a marital split is who gets to keep the memories pictured in photographs. The in-laws, "outlaws" and everyone in the family can easily get archived digital copies from all their photos.
All too often, we hear about friends, relatives, and celebrities calling it quits to their marriage, which evokes a very common question, who gets the family pictures?
In today's all-digital world, the answer is as simple as a press of the button to easily share everything electronically. But, what about those decades-past analog photos, 35mm slides, and film negatives? That task is much more arduous, and often enters a caustic battle over who gets to retain the family pictures.
During the past two months, ScanMyPhotos.com has conducted an outreach campaign asking people why they digitize pictures? The answers from 940 respondents were across the board– from the expected family reunions, anniversaries, and even memorial services. The second most popular reason why people digitize pictures is due to all the popular photo-sharing apps, like Google Photos, Instagram, and Twitter.
However, in a heavy-hearted reaction, the most common reason people digitize pictures is due to a separation, where a couple needs to divide their possessions. This is often followed by combative discussions, which occasionally end up costing thousands in legal fees. And, that is before a single picture is digitized. It is highly emotional. Reexamining pictures from yesteryear and happier times is a particularly sensitive undertaking.