Trustworthy digitization services matter, and we're proud to share why we've earned the trust of so many.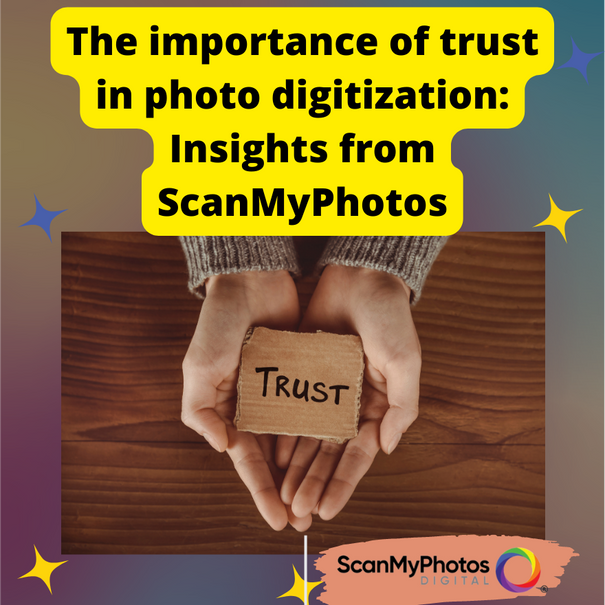 Do you have boxes of old photos collecting dust in your attic or basement? Have you ever considered digitizing them to preserve your memories for future generations? If so, you may wonder how to choose a trustworthy company to handle your precious memories with care and respect.
This article shares insights on how we've earned people's trust to digitize their precious memories and why it matters.
Over the years, ScanMyPhotos.com has become a trusted leader in the photo digitization industry.
The Doctor-Patient Relationship Analogy
As CEO of ScanMyPhotos, Mitch Goldstone has been asked by journalists over the years how he managed to gain people's trust to digitize their precious memories. His answer? "It's a bit like going to a doctor, where trust is the key!" Just like a doctor, we strive to build trust with our clients. We listen attentively to their needs and take every precaution to ensure their photos are treated with the utmost care and respect.
Our Mission: Listen
Our one-word mission statement is to listen. Listening to our client's needs and concerns is at the core of our business. We understand that every photo is unique and has its own story. That's why we take the time to listen to our client's stories, understand their needs, and provide customized solutions that meet their expectations.
Transparency, Clear Communication, and Exceptional Service
To earn our client's trust, we work hard to maintain transparency, communicate clearly, and deliver exceptional service. We want our clients to be fully informed about the digitization process, including the steps we take to protect their photos from damage or loss. That's why we provide a detailed explanation of our process on our website, including information on our scanning equipment, storage options, and quality assurance process.
We also strive to provide clear and timely communication with our clients. Our customer service team is available by phone, email, or chat to answer any questions and update their order status. We understand that our clients entrust us with their precious memories, and we take that responsibility very seriously.
We aim to make the photo digitization process seamless and stress-free. We know that sending your photos away for digitization can be daunting, but we aim to make it as easy and convenient as possible. We offer multiple options for shipping your photos to our facility, including prepaid labels and a concierge service that comes to your door to pick up your photos.
Our Commitment to Listening
Through our commitment to listening, we have earned a reputation as a trusted leader in the photo digitization industry. We understand that our clients have a choice when digitizing their photos, and we are honored that they chose us. Our goal is to exceed their expectations and deliver a product they will treasure for years.
Innovation and Quality
At ScanMyPhotos, we take pride in our innovation and quality. We were the first company to offer prepaid photo scanning boxes and one-hour scanning services, and we continue to innovate and improve our processes. We use state-of-the-art scanning equipment and techniques to ensure that every photo is scanned at the highest quality possible.
Choose Wisely
In conclusion, if you want to digitize your photos confidently, choose a company that listens to your needs and values your memories. At ScanMyPhotos.com, we understand the importance of trust in photo digitization. We strive to build trust with our clients through our commitment to listening, transparency, clear communication, and exceptional service. Trust us with your memories, and we'll deliver a product that you'll cherish for years.
---