[READ TIME: 2 Minutes]
Similarities between social media apps and digitizing pictures Similarities between social media apps and digitizing pictures.
This article is about how ScanMyPhotos brings the same feeling of nostalgia and memory-keeping as social media platforms, with a touch of personalization.
Facebook, Instagram, Twitter, Whatsapp, WordPress, TikTok, YouTube, and other popular social media apps are famous online forums. People from all around the globe congregate online to type, share pictures and engage in thought-provoking conversations. It is an exuberant data transmission center that allows users to present their ideas, exhibit their creativity, and communicate with those who share their interests.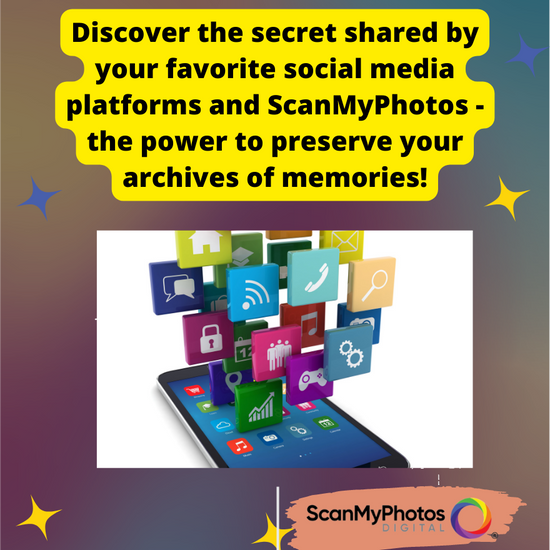 Likewise, ScanMyPhotos has evolved as an effective medium for digitalizing photo history, preserving memorable moments, and making them accessible to a larger population. It functions like a magical digital time machine, transporting us back to our dearest experiences, granting us a sneak peek into the past, and increasing our admiration for our shared heritage.
Digitizing pictures and scrolling through social media feeds let us freeze moments in time.
Though each social media app and ScanMyPhotos might appear as dissimilar media outlets, they have a fundamental trait in common – all are concentrated as a catalyst for disseminating valuable knowledge to the public.
On sites like Facebook, Twitter, and other online communities, the uploaded material is represented by opinions, news, trends, and more. ScanMyPhotos.com digitally preserves memories, narrates stories, and develops an indelible record for the coming generations.
---
---
Similar to how online users enjoy Instagram and other social platforms to convey themselves and link up with others, ScanMyPhotos.com enables people to showcase their individual narratives and make contact with their families and loved ones. By converting old photos to a digital format, people can easily and instantly access these past times and bring those closest to them closer. It is a remarkable way to honor the preceding while concurrently drawing people together in the current.
Discover the secret shared by your favorite social media platforms and ScanMyPhotos – the power to preserve your most cherished memories!
Each social networking site, along with ScanMyPhotos is similar in providing a sense of community and belonging. On Twitter, users can engage with like-minded individuals and discuss topics that interest them. At the same time, ScanMyPhotos.com creates a platform to foster relationships by sharing memories and experiences. This sense of connection is an integral part of our lives.
Follow ScanMyPhotos on Twitter.
All these platforms are a means of democratizing information. Posting to microblogging sites helps communicate thoughts and ideas regardless of the author's status or background, while photo scanning services also allow people to document and save their history. These resources give people a sense of equality and opportunity to be heard, regardless of their circumstances or history of marginalization.
Over the years, Twitter and ScanMyPhotos.com have undergone dramatic improvements to provide their users with the best possible experience. Twitter has introduced features such as polls, live streaming, and Twitter Spaces, while ScanMyPhotos.com has expanded its capabilities to digitize photographs, slides, negatives, and other media. The two platforms continuously strive to meet their users' needs, making them more useful and up-to-date than ever before.
Moreover, both Twitter and ScanMyPhotos.com allow for effective storytelling. Twitter users can express their stories through threads, hashtags, and multimedia content, while ScanMyPhotos.com allows users to preserve their memories through photos, slides, and negatives. By telling stories, people can appreciate the rich diversity of the past and present.
To sum up, while these media-sharing apps and ScanMyPhotos may appear dissimilar, they are all driven by the same aim: distributing and preserving meaningful information. While Twitter faces deep controversies, it and the others are a virtual public square, enabling users to interact and exchange opinions. In comparison, ScanMyPhotos provides an efficient means of digitizing photo history, conserving cherished memories, and making them available to a wider audience. With the help of these platforms, we can experience a sense of community, access information more democratically, and gain a greater insight into storytelling.